Comera gets approved, albeit with whopping 98.4% redemptions. A $60M IPO for PNACU. And the rest of the day's news in SPACs.
————————————————-
Free Investor Resources from Boardroom Alpha
—————————————————-
** Podcast: Know Who Drives Return
** Daily SPAC Newsletter
** Full SPAC Listing
SPAC IPO: Prime Number Acquisition I Corp. (PNACU)
Prime Number Acquisition I Corp. (PNACU) prices $60M IPO. $10.20 cash in trust. Unit = share + 1/2 warrant + 1/8 Right. The SPAC, whose target focus is tech/finance, is led by CEO and Chairman Dongfeng Wang, venture partner at China's LongLing Capital and the Chief Strategy Officer of Taoping (TAOP). CFO and Director David Friedman is the current CFO of optical sensor company Oyla.
OTR Approves Merger with Comera Life Sciences; High redemptions
Potential squeeze alert: OTR Acquisition Corp. (OTRA) approved its merger with biotech Comera Life Sciences (CMRA). High redemptions– 10.3M shares redeemed (98.4%). That leaves ~168,000 tradable shares. No PIPE. Risk that the deal may not close given the low capital and high redemptions.
Elsewhere in SPACs
Kingswood Acquisition Corp. (KWAC) announces an LOI with Wentworth Management Services, a platform of RIAs/broker dealers. The news comes just ahead of extension vote Wednesday. KWAC seeks a 6 month extension.
Lionheart Acquisition Corporation II (LCAP) announced a new $1B committed equity facility with Cantor to buy 3.5M of any redeemed shares "at a per share purchase price at or below the redemption price for the shares." The FPA would trigger before the closing of LCAP's proposed business combination with MSP Recovery.
Better World Acquisition Corp. (BWAC) adds $500k (~7c / share) to trust, bringing NAV to ~$10.37. Shareholders redeemed 5.6M shares at approximately $10.30 / share.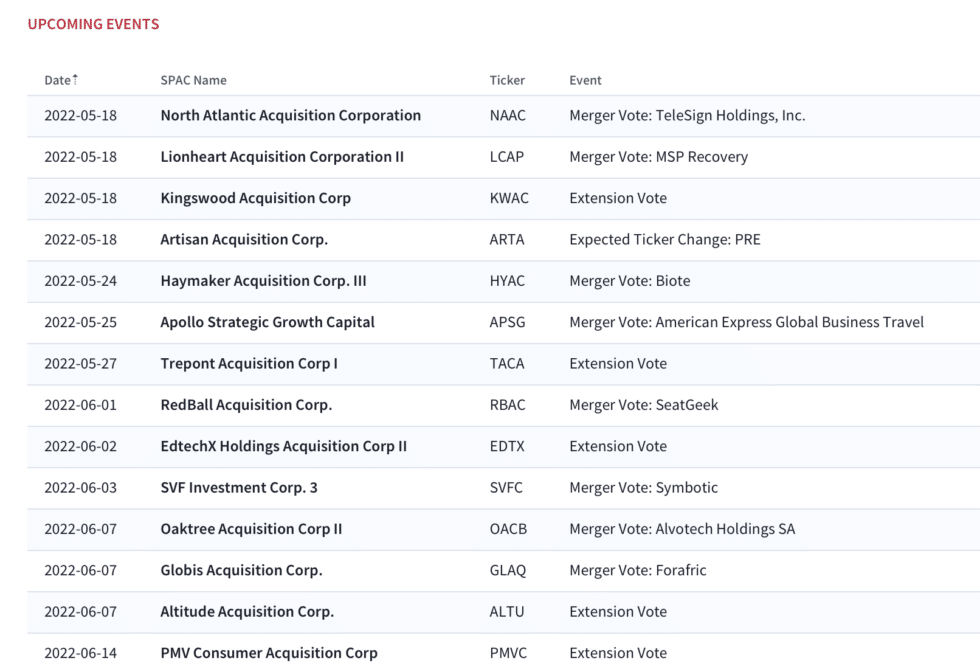 More from Boardroom Alpha
For ongoing tracking, analytics, and data on SPACs checkout Boardroom Alpha's SPAC Data and Analytics service.