A look at 3 female CEOs that are outperforming benchmarks right now.
In a tough market, we take a look at three female executives who are driving total Shareholder Return (TSR) over the past year. With investors, proxy advisors, and other constituencies demanding pay-for-performance, TSR is becoming an increasingly watched metric for compensation committees.
TSR combines price appreciation and dividends calculated as a return percentage on the beginning share price. Many critics argue that TSR fails to adequately reflect individual or company performance, but rather reflects market or industry trends as a whole– which are typically outside the control of the CEO or executive in question.
The effectiveness of TSR as a performance metric is certainly debatable. But with these female-led growth stories delivering outsized returns, we take a closer look.
Advanced Micro Devices (AMD)
Industry : Semiconductors
CEO: Lisa Su
AMD: Market Snapshot

Benefitting from data center growth. In her almost 8 years as AMD's CEO, Lisa Su has delivered an impressive TSR of 51%. In the past year, AMD has delivered a 19% TSR, versus -5% for the S&P 500 over the same period. The company smashed expectations in its most recently reported Q1. Revenue of $5.9 billion were up 71% YoY, as the company benefits from growth in the data center business and the recent acquisition of chipmaker Xilinx, which was completed in February this year. Operating margin is also expanding– up nine percentage points YoY to 31%. Accelerators such as CPUs, GPUs, and FPGAs are being increasingly deployed in data centers for artificial intelligence (AI) and deep learning functions. Data center revenue doubled last quarter on a YoY basis and is now a ~20% of total revenue.
AMD: Revenue and EBITDA growth outpacing peers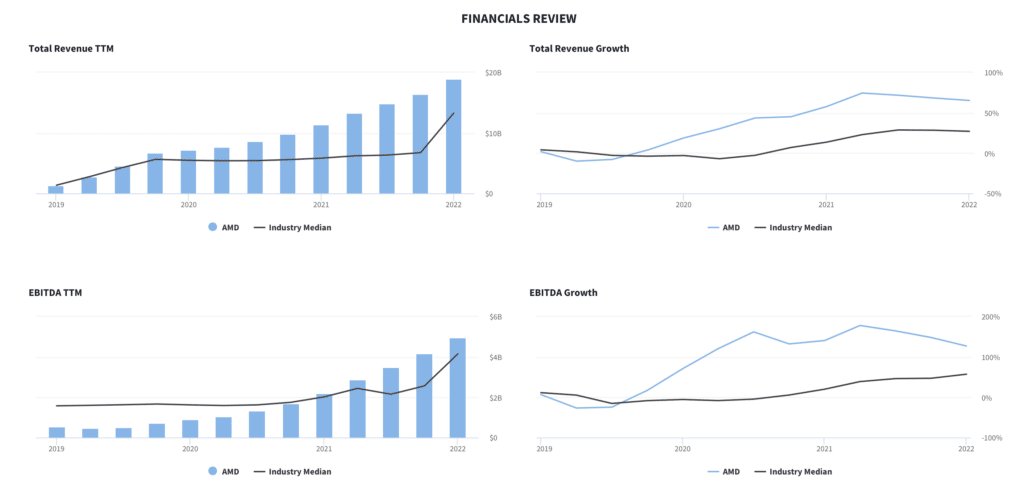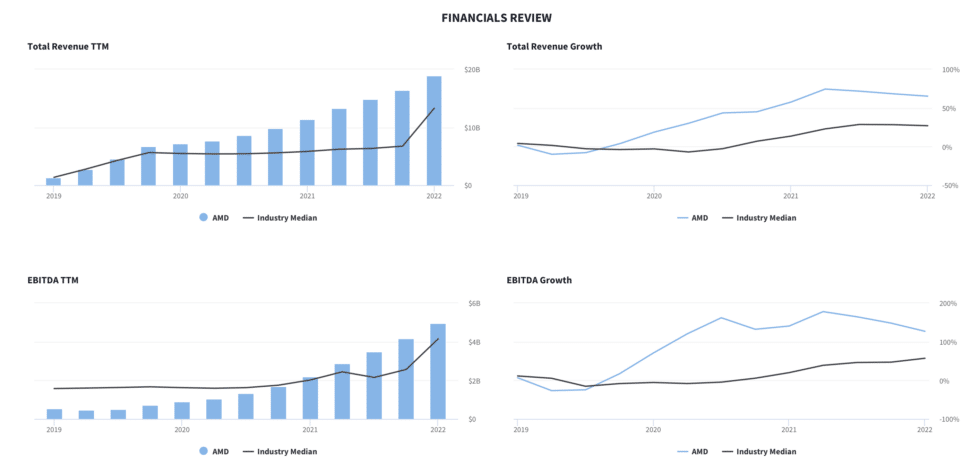 Bumped up guidance. AMD now expects revenue to increase 60% in 2022 to $26.3B– up from prior guidance of 31% growth. The upward guide is attributable to the Xilinx acquisition, an increase in server processor revenue, and increased sales of the semi-custom chips used in video gaming consoles.
Enterprise business is also firing on all cylinders. AMD's enterprise, embedded, and semi-custom (EESC) segment, which includes sales of server processors, is also on fire– growing 88% YoY to $2.5B. AMD CEO Lisa Su noted on the company's latest earnings conference call that AMD has "more than doubled server processor revenue year over year in eight of the last 10 quarters." Cloud service providers such as Amazon (AMZN), Alibaba (BABA), Baidu (BIDU), Microsoft (MSFT) and Google (GOOG, GOOGL), are deploying AMD's server chips for their cloud deployments. 70 new virtual servers were launched using AMD's chips last quarter, and management has suggested continued strong growth.
Xilinx and the FPGA opportunity. Xilinx could become a home run as FPGAs accelerate server workloads. Xilinx has dominated this market despite the presence of much bigger players like Intel (INTC).
Chart Industries (GTLS)
Industry: Specialty Industrial Machinery
CEO: Jillian Evanko
GLTS: Market Snapshot

Industrial growth story with green energy as a growth lever. With a current market capitalization of $5.8B, Chart Industries is an old-world industrial gas infrastructure and storage company with meaningful operational upside from cleaner energy opportunities like LNG, hydrogen and carbon capture. Evanko, in her 3.9 years as Chart Industries' CEO, has delivered a TSR of 28%. The company generated TSR of 12%, versus a decline of 5% for the S&P 500 over the same period. GLTS shares have outperformed on a 1, 3 and 5-year basis.


Hydrogen opportunity. Chart Industries has successfully leveraged its position in liquefaction, storage, transport, and distribution/re-gassification of industrial gasses into hydrogen as an important growth focus. Management has quantified hydrogen as a potential $24B addressable market in 2030– in addition to opportunities in LNG, carbon capture, food/beverage, and water. Last month, the company announced a relationship with Ballard Power (BLDP) to test hydrogen-powered fuel cells. The companies are also working together to development of integrated systems, including a fuel cell engine with onboard liquid hydrogen storage and vaporization for the transportation industry. Liquid hydrogen has a significant space, weight, and range advantages compared with gaseous H2 and is attractive for many heavy-duty mobility applications including marine.
Walking the walk in diversity. In addition to a female CEO, and strong recent performance of the stock, GLTS is a standout in its demonstrated commitment to building a an inclusive diverse workforce. Women comprise a third of the board and the company has created an employee driven, executive leadership sponsored Diversity and Inclusion Committee.
GLTS: Diversity & Inclusion snapshot


Diamond Hill Investment (DHIL)
Industry: Asset Management
CEO: Heather Brilliant
Active asset manager. With a market capitalization of $500M, Diamond Hill Investment is a small independent active asset manager navigating a difficult market. But in just under 3 years as CEO, Heather Brilliant is driving outsized returns, with Diamond Hill now at $30.3 billion in assets under management. Brilliant was previously CEO, Americas with First State Investments and prior to that spent nearly 14 years with Morningstar where she became CEO of Morningstar Australasia. DHIL shares have generated 13% TSR in the last year. Revenues grew 8% YoY in the most recent quarter, with continued net inflows. The company has grown EPS by 15% per year over the past three years. DHIL also recently delivered strong Q1 earnings results and declared a quarterly dividend of $1.50 per share (payout ratio 27%).
DHIL: Market Snapshot


Could be a beneficiary of industry consolidation. The big fear is that the asset management business is shifting toward indexed products like ETFs, which might reduce demand for active management. That said, DHIL has been diversifying its business, whose investment strategies include differentiated U.S. and international equity, alternative long-short equity and fixed income. The company has also divested less strategic businesses, having sold its $2.1B Corporate Credit fund and $779.4M High Yield fund to Brandywine Global Investment Management last year. Despite the continued flow of M&A activity among midsize asset managers, we continue to view the market as fragmented and expect continued consolidation, which could make DHIL an attractive acquisition target.
Insider buying. Also of note: Brilliant has been buying stock, with 2 purchases as recently as last month.
DHIL insider buying: CEO has been buying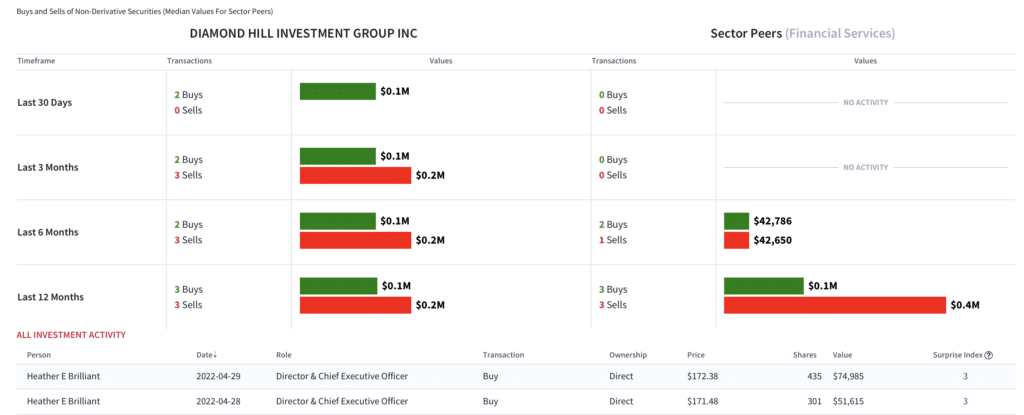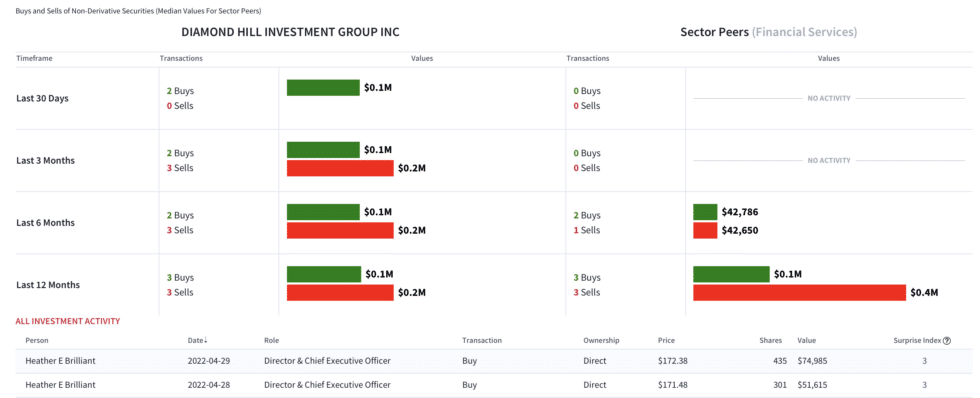 Latest Podcast: NYC Pension Funds Want Amazon Accountable for Human Capital
Our latest podcast explores the ESG situation at Amazon (AMZN), which is facing activist pressure as employees demand better working conditions. The tech giant has drawn increasing criticism for its treatment of workers, including claims of poor working conditions at its warehouses and attempts to block unionization. To dive into the details on why Amazon is failing in human capital management, Boardroom Alpha sat down with Michael Garland, Assistant Comptroller for Corporate Governance and Responsible Investment at the New York City Office of the Comptroller. Garland details the NYC Pension Funds' campaign– along with New York State Comptroller Thomas DiNapoli and trustees of all five of the New York City Retirement Systems– to unseat two Amazon board members responsible for human capital management– Daniel Huttenlocher and Judith McGrath. Amazon's annual shareholder meeting is coming up on May 25th.
Want to see more interesting growth companies up-close, hear from industry leaders and learn about the ESG trends driving the markets? Check out our latest Boardroom Alpha podcasts here.
Get in Touch
Your comments and feedback are always welcome. Let's continue the discussion. Email me at joanna@boardroomalpha.com.