XRAY cleans house. Is this the start of a strategy shift for the dental equipment manufacturer?
XRAY terminates CEO…is something afoot? On April 19th, dental equipment manufacturer Dentsply Sirona (XRAY) announced that it has parted ways with CEO Don Casey, who has held the role since 2018. Board member John Groetelaars, who was CEO of medtech Hill-rom Holdings until its acquisition by Baxter International (BAX) late last year, will serve as interim CEO. Barbara Bodem, the CFO at Hillrom under Groetelaars, is joining as interim CFO effective April 25. Outgoing CFO Jorge Gomez was already in the process of leaving to assume a similar role at Moderna (MRNA). The firing of Casey on the heels of Gomez's departure as CFO has raised some eyebrows, with the stock declining 19% since the announcement. Given that two senior executives are being replaced simultaneously, investors are likely considering the possibility that a meaningful change in XRAY's business strategy is about to occur.
Not the first time XRAY has cleared the deck. The company reshuffled its management team in 2017, ousting its then-chairman Bret Wise, CEO Jeffrey Slovin and COO Christopher Clarks.
Negatively pre-announced Q1 results. In conjunction with the management changes, XRAY announced updated, disappointing Q1 guidance . The company guided to EPS in the range of $0.48–$0.52 on sales of $965M (-1.4% year-over-year)– well below consensus of $0.67 on $1.02B. "Relative to last year, these results reflect weaker sales performance in the U.S., global supply chain challenges, and foreign exchange headwinds," the company said in the press release.
XRAY in brief. Founded in 1899 and based in Charlotte, North Carolina, Dentsply Sirona is a dental equipment manufacturer and dental consumables producer. The company, which has an $8.8B market capitalization, generated 2021 sales of $4.2B and adjusted EBITDA of $992M (23.3% EBITDA margin). XRAY has largely grown through acquisitions– the most notable being the $14.5B merger with Sirona Dental Systems in 2015– a merger of equals which essentially doubled the business at the time to ~$3.8B in sales. Subsequent acquisitions have moved the company into the dental implant and consumer clear aligner market: dental implant maker OraMetrix (2018), and clear aligner companies byte (2021) and Propel Orthodontics (2021), which further diversified the business.
XRAY stock: Last 12 months have been a disaster


XRAY shares have underperformed the market and peers; eroding FCF. XRAY shares have underperformed the S&P500 over the past 1, 3 and 5-year period. Over the past 12 months, shares have declined 34%, versus a 1% decline for the S&P500 over the same period. In particular, FCF, which is trending below peers, has declined for the past 3 consecutive quarters, falling to -6% in Q4 2021.
XRAY vs. S&P 500: Can new leadership reverse course?


Despite being a growth market, consumables revenues declined last quarter. XRAY operates 2 business segments: 1) Technologies and Equipment and Consumables, which comprises dental technology, equipment and healthcare consumable products (e.g. dental implants, laboratory dental products, imaging systems, and consumable medical device products); and 2) Consumables, which offers preventive, restorative, instruments, endodontic and orthodontic dental products.
Consumables softness likely to pressure 2022 outlook. In the company's most recently reported Q4, Technologies and Equipment reported organic growth of 6.5%, while Consumables reported a decline of 4.6%. Management attributed this decline to tougher YoY compares and the timing of purchases ahead of annual price increases. For 2022, management has guided to blended organic revenue growth of 4-5%, driven mostly by the ortho and implant businesses and international expansion. We think the aptly-timed reduced Q1 outlook, coupled with new management, sets the stage for a revised 2022 outlook on the company's upcoming earnings call (May 10th).
New management sets the stage for a re-set: Expect downward revision to 2022 guidance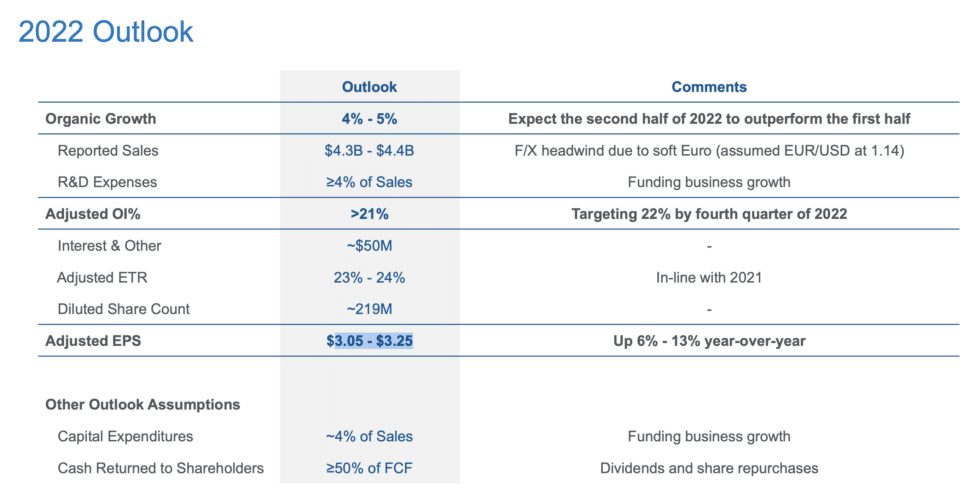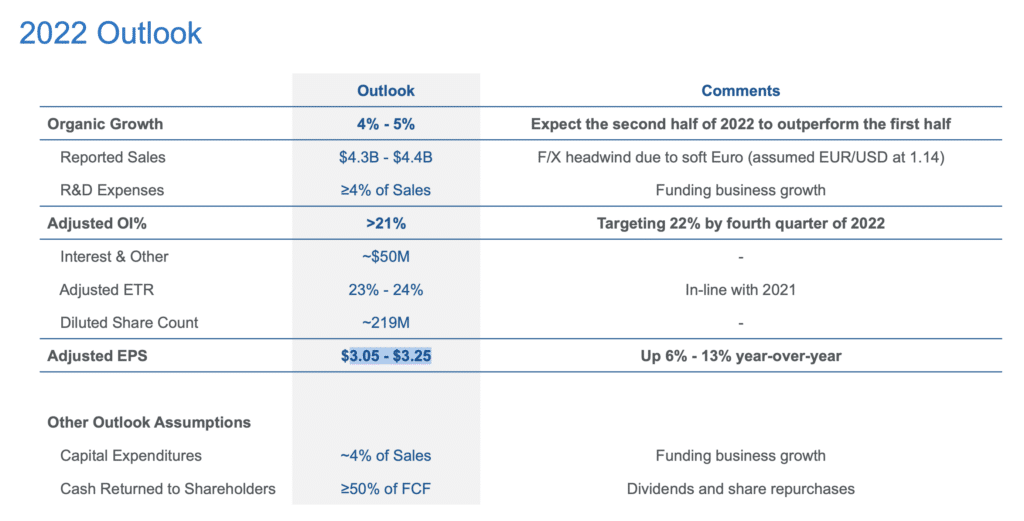 Dividends and buybacks should offer support for the stock. The company has $890M remaining in its $1B share repurchase program, which should offer continued support for the shares. In Q4, management stated that it plans to return at least 50% of cash flow through dividends and share repurchases. Notably, XRAY has offered uninterrupted dividend payments since 1995. XRAY has a healthy 1.23% dividend yield; dividend was increased by $0.125 per share (~13%) in the most recent quarter.
XRAY capital return: Dividend and buyback summary


Shareholder return. Quarterly ROE and ROIC has trended at or below the peer median going back to 2019.


Board composition. XRAY's board scores a C- on the Boardroom Alpha scorecard, owing largely to the underperformance of the stock over the past 1, 3 and 5-year periods. While no board members are overboarded, its worth noting that the company's board is larger than peers. Diversity and Inclusion metrics look good. Board members have mostly been inactive with respect to trading the stock. Three board members have been strong sellers of XRAY stock, albeit insider selling totaled $5.1M over the last 6 months–still below peer norms.
XRAY current board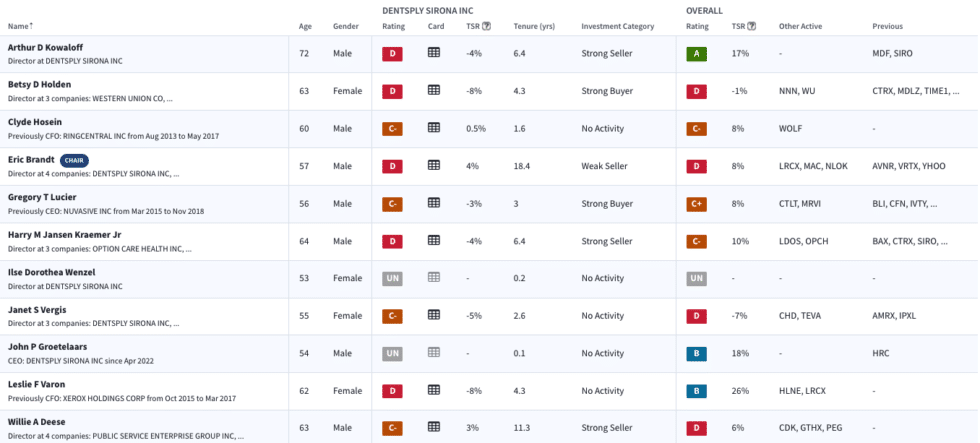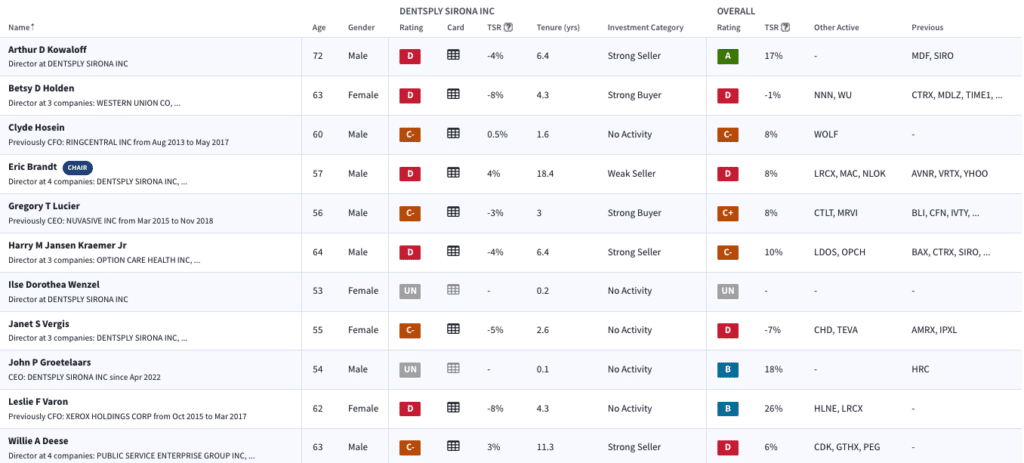 XRAY: Diversity & Inclusion snapshot


XRAY stock: Insider trading snapshot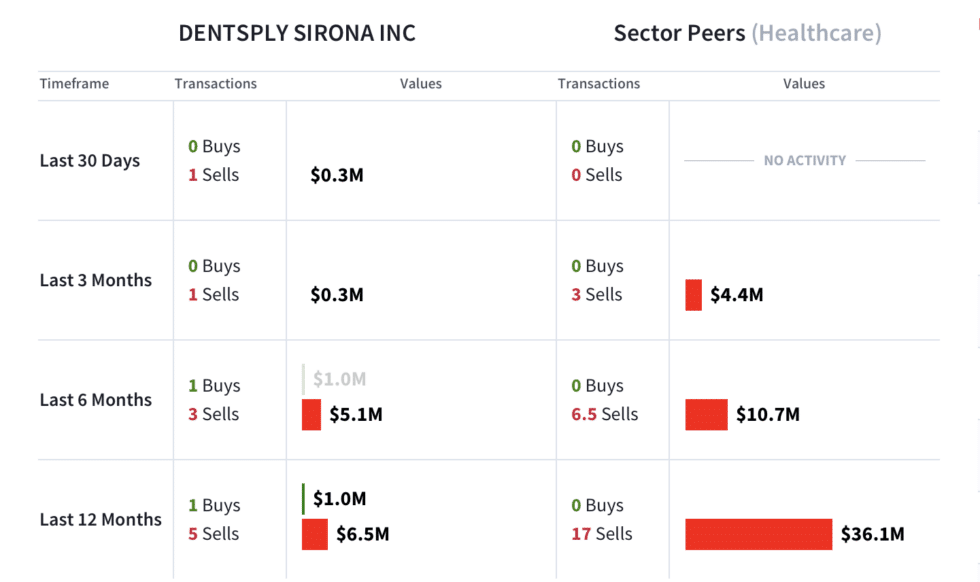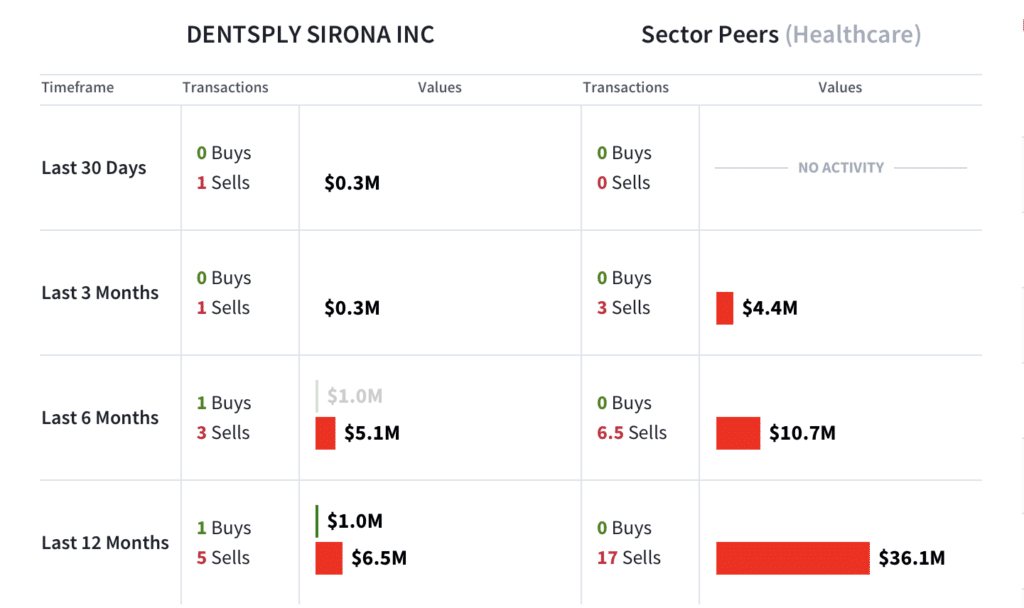 Clear aligner market is the biggest growth lever. The company's SureSmile clear aligner system is the most significant growth lever, particularly as XRAY expands its International reach. The market for clear aligners is valued at $3.4B in 2021 and is projected to grow at a CAGR of 29% over 2022-2028. This segment is largely under-penetrated, but highly competitive. XRAY competitors include Align Technology (ALGN), Henry Schein (HSIC), 3M Company (MMM) and Envista Holdings (NVST). XRAY should be able to grow revenue significantly over the medium to long term owing to its support for general practitioners as well as continued rollout of advanced digital features.
Discounted valuation, but there's no rush to jump in. At 11x forward EBITDA, XRAY shares trade well below the company's largest peer, Align Technology (ALGN) at 20x. That said, we are not compelled to buy here, as there are too many moving parts to this story right now. We'd like to get more comfort that the company can sustain 4-5% long-term organic growth as well a clearer picture on renewed growth on the consumer side of the business. We remain on the sidelines pending updated 2022 guidance and a strategic update.
Latest Podcast: NYC Pension Funds Want Amazon Accountable for Human Capital
Our latest podcast explores the ESG situation at Amazon (AMZN), which is facing activist pressure as employees demand better working conditions. The tech giant has drawn increasing criticism for its treatment of workers, including claims of poor working conditions at its warehouses and attempts to block unionization. To dive into the details on why Amazon is failing in human capital management, Boardroom Alpha sat down with Michael Garland, Assistant Comptroller for Corporate Governance and Responsible Investment at the New York City Office of the Comptroller. Garland details the NYC Pension Funds' campaign– along with New York State Comptroller Thomas DiNapoli and trustees of all five of the New York City Retirement Systems– to unseat two Amazon board members responsible for human capital management– Daniel Huttenlocher and Judith McGrath. Amazon's annual shareholder meeting is coming up on May 25th.
Want to see more interesting growth companies up-close, hear from industry leaders and learn about the ESG trends driving the markets? Check out our latest Boardroom Alpha podcasts here.
Get in Touch
Your comments and feedback are always welcome. Let's continue the discussion. Email me at joanna@boardroomalpha.com.