Dan Loeb's Third Point increases its stake. A separation of the legacy oil & gas and renewable business could unlock value.
Third Point Increases SHELL stake. Last week, Dan Loeb's Third Point Investors Ltd. disclosed it has increased its stake in Euro oil and gas giant Shell (SHEL). Third Point, which built a $750M holding in the stock last year, has been pressing Shell to separate its LNG (Liquified Natural Gas), renewables and marketing divisions into a standalone business.
Will a separation improve Shell's transition strategy? Shell, Europe's largest oil company, has been under pressure to divest its fossil fuel investments after a court ordered the company in May to cut greenhouse-gas emissions 45 percent by 2030 compared with 2019 levels. While Shell has gained a strong market position in LNG via the $52B acquisition of BG Group (2016), the conglomerate has lagged peers in transforming its business model and investment in green energy projects. Loeb has indicated that a separation of the legacy and renewables businesses could lead to a reduction in carbon dioxide emissions and increased shareholder returns, "a win for all stakeholders." For its part, Shell has indicated that it plans to reduce emissions from operations by 50 percent by 2030. Earlier this month, Shell published its first Energy Transition Progress Report. Critics pointed to the lack of absolute emission targets for Scope 3 emissions while also wanting to see a commitment to refrain from sanctioning new hydrocarbon projects.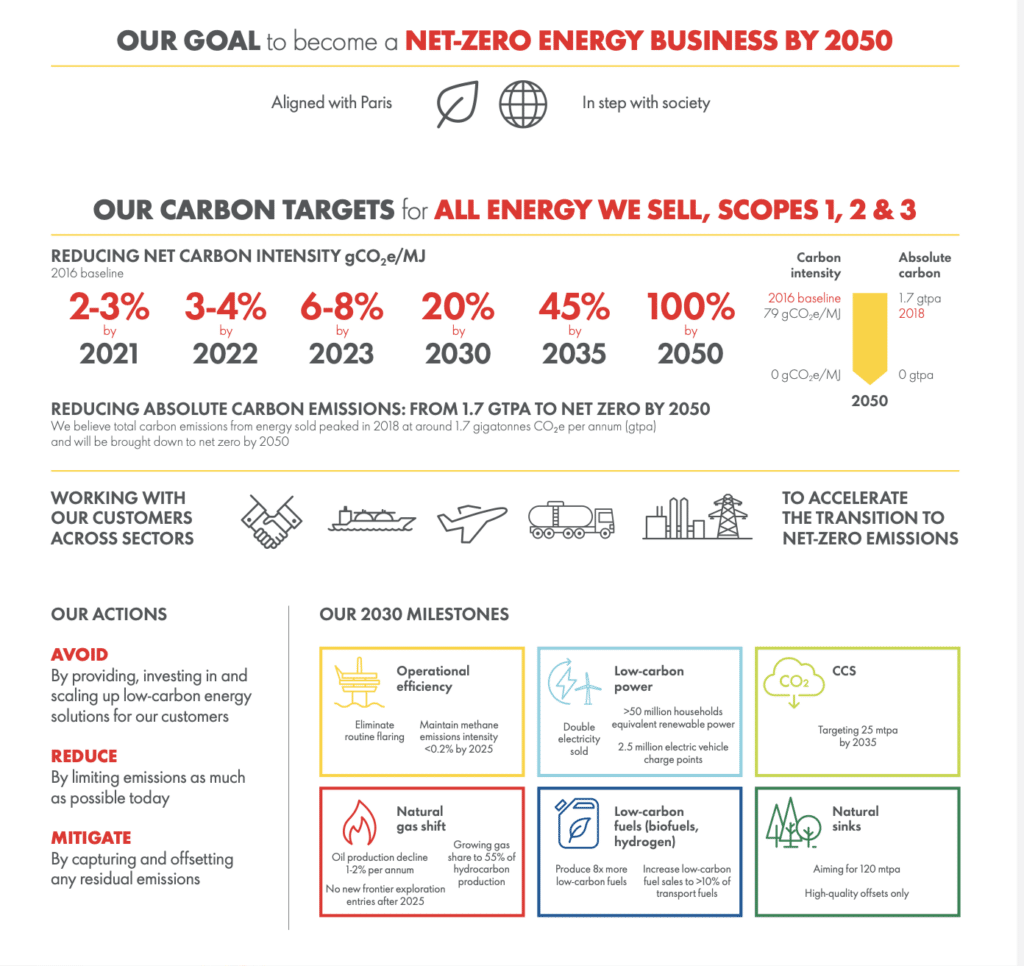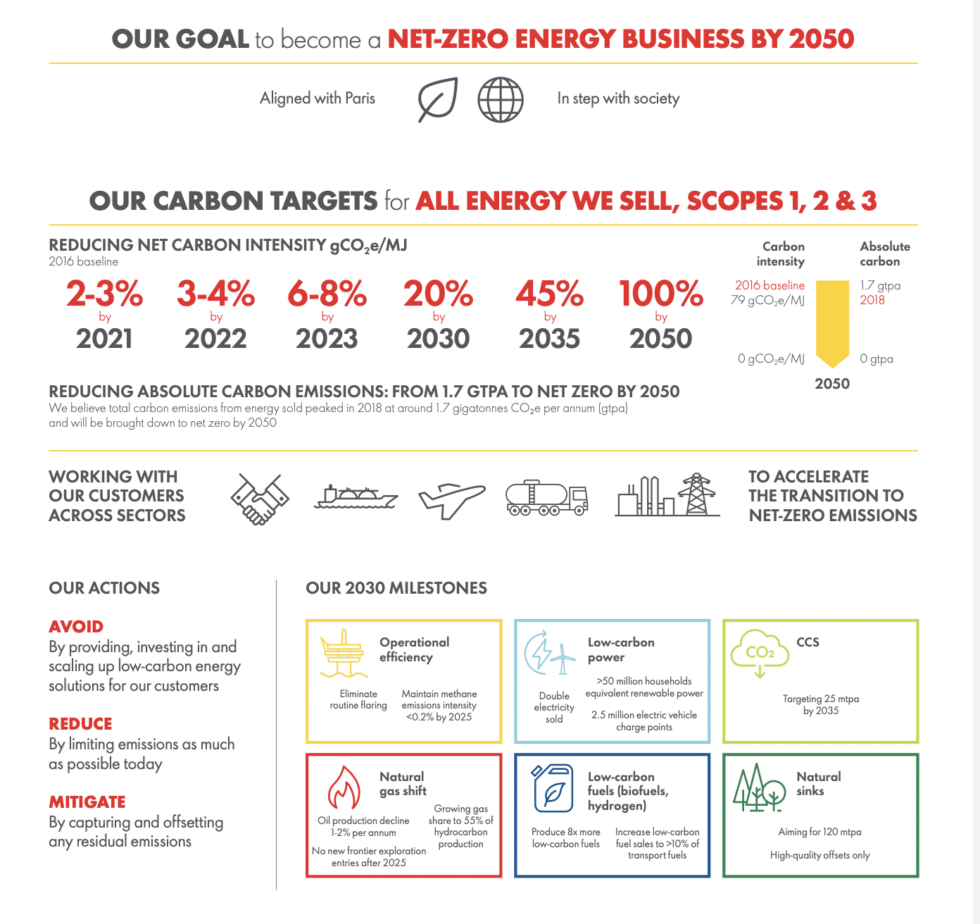 Competitors are separating renewable assets. Until recently, oil and gas players in Europe have kept their renewable power businesses in-house. However, with oil and gas prices surging, we are seeing increased interest on the part of energy conglomerates to access the markets to raise capital for renewables growth. Other European energy conglomerates are spinning off parts of their low-carbon energy assets or considering such a strategy. Italian energy company Eni SpA (E) plans to spin off a minority stake of its retail energy and renewables business, named Plenitude, in an IPO next year estimated at $11.3 billion. Spain's Repsol SA (REPYY) is said to be planning a spin off its renewable energy business. Spanish electricity utility Iberdrola SA also indicated it may list part of its offshore wind-farm business in an IPO.
SHELL stock: a tale of surging oil and gas prices


SHELL trades at a significant discount to CVX and XOM. SHELL stock is up 22% year-to-date, versus a 16% decline for the S&P500 over the same period. That said, the shares trade at a significant discount to peers Chevron (CVX) and ExxonMobil (XOM). SHELL trades at 3.4x EV-to-2023E EBITDA, versus 9.7x and 4.7x for CVX and XOM, respectively. Earlier this month, Shell reported record Q1 adjusted earnings of $9.1B (versus $3.2B in the year-ago quarter) after a surge in oil prices. The company announced a dividend increase of ~4% to $0.25 per share.
SHELL trades at a discount to CVX and XOM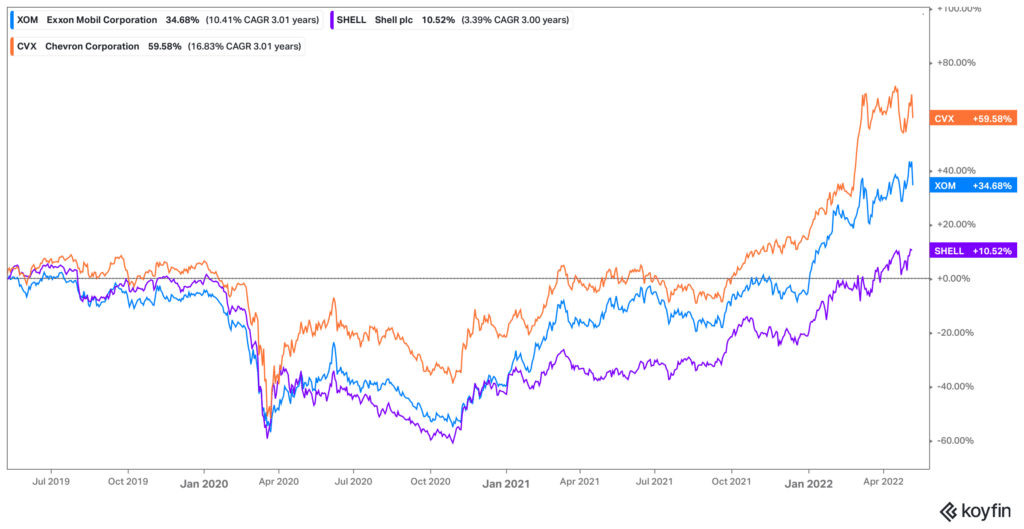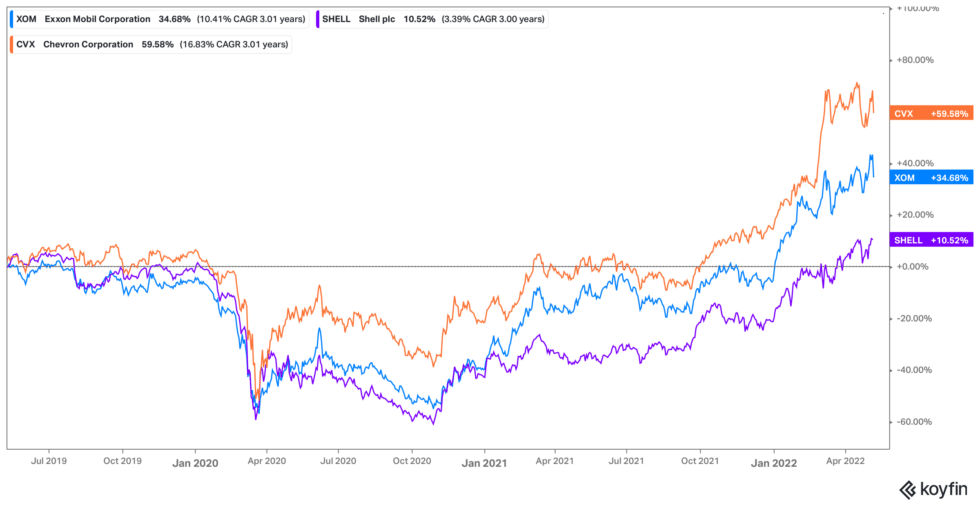 The energy transition is real. A separation should unlock value for the high growth/high value renewables business. It won't be easy, but oil and gas firms need to figure out how to replace a slowing cash cow business for the benefit of a sustainable future. With SHELL trading at a forward P/E of 6x, below a 10-year average of ~12x, the current valuation doesn't attribute any value to the company's transformation from a traditional oil and gas company to a renewables / carbon capture business. In theory, a separation of the businesses should attract a higher valuation for the pure-play higher-growth renewable business and a lower cost of capital. Note that alternative energy giant NextEra Energy (NEE) trades at 14.5x EV-to-2023E EBITDA, versus 3.4x for SHELL on a consolidated basis. At the very least, it's clear that Shell is still valued as an oil stock, not an oil-converting-to-renewables-stock. Loeb has started a very important conversation.
Latest Podcast: NYC Pension Funds Want Amazon Accountable for Human Capital
Our latest podcast explores the ESG situation at Amazon (AMZN), which is facing activist pressure as employees demand better working conditions. The tech giant has drawn increasing criticism for its treatment of workers, including claims of poor working conditions at its warehouses and attempts to block unionization. To dive into the details on why Amazon is failing in human capital management, Boardroom Alpha sat down with Michael Garland, Assistant Comptroller for Corporate Governance and Responsible Investment at the New York City Office of the Comptroller. Garland details the NYC Pension Funds' campaign– along with New York State Comptroller Thomas DiNapoli and trustees of all five of the New York City Retirement Systems– to unseat two Amazon board members responsible for human capital management– Daniel Huttenlocher and Judith McGrath. Amazon's annual shareholder meeting is coming up on May 25th.
Want to see more interesting growth companies up-close, hear from industry leaders and learn about the ESG trends driving the markets? Check out our latest Boardroom Alpha podcasts here.
Get in Touch
Your comments and feedback are always welcome. Let's continue the discussion. Email me at joanna@boardroomalpha.com.