Vote date set for Hong-Kong based COVID-19 lab provider Prenetics. A look at upcoming merger and extension votes. And the rest of the day's news in SPACs.
————————————————-
Free Investor Resources from Boardroom Alpha
—————————————————-
** Podcast: Know Who Drives Return
** Daily SPAC Newsletter
** Full SPAC Listing
Artisan Acquisition Corp. (ARTA) Sets Vote Date for Merger with Prenetics
Artisan Acquisition Corp. (ARTA) sets May-9 for vote on its merger with Hong Kong-based Prenetics (PRE). Prenetics is focused on genomic testing, rapid diagnostics for COVID-19 and infectious diseases, and colorectal cancer screening. The transaction values Prenetics at an enterprise value of $1.25B with a combined equity value of approximately $1.7B.
Vickers Vantage Corporation I (VCKA) Extends
Vickers Vantage Corporation I (VCKA) extends to July-11 and adds $0.075 to trust. VCKA has a DA with biopharma Scilex Holding Company, a subsidiary of Sorrento Therapeutics (SRNE). The SPAC is led by Jeffrey Chi, Chairman and Chief Executive Officer, Chris Ho, Chief Financial Officer and Director, and Special Advisor Dr. Finian Tan.
Elsewhere in SPACs
Satellite communications technology specialist SatixFy announced the passing of Yoel Gat, CEO of the company. SatixFy has DA with Endurance Acquisition Corp. (EDNC), which was announced in March)
Upcoming Merger and Extension Votes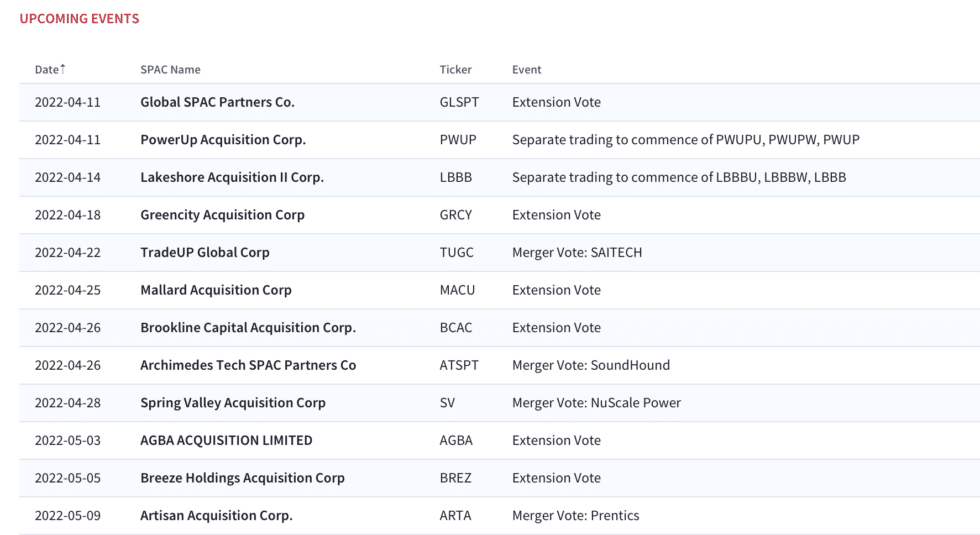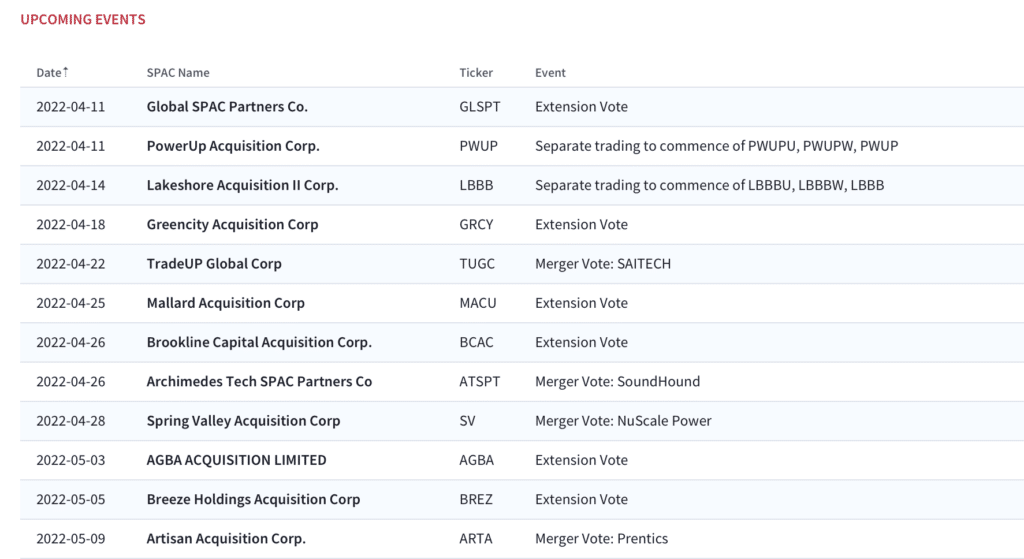 More from Boardroom Alpha
For ongoing tracking, analytics, and data on SPACs checkout Boardroom Alpha's SPAC Data and Analytics service.