AMC's Hycroft investment looks more like a distraction than anything else.
Talk about a bold diversification plan. Embattled movie theater chain AMC Entertainment Holdings (AMC) announced a 22% stake in Hycroft Mining Holding (HYMC) and its 71,000-acre gold and silver mine in northern Nevada. AMC will invest $27.9 million in HYMC in exchange for 23.4 million warrants units; each unit consists of 1 common share of Hycroft and 1 common share purchase warrant. The units are priced at $1.193 a share; each purchase warrant is priced at about $1.07 a share and carries a five-year term. AMC will also get a seat on Hycroft's board. Eric Sprott, one of the world's leading gold and silver investors, is making an equal investment in Hycroft along with AMC. Together, AMC and Sprott are investing $56 million.
This news looks more like a distraction than anything else. "To state the obvious, one would not normally think that a movie theatre company's core competency includes gold or silver mining," said AMC CEO Adam Aron. AMC's other investments include adding new theaters and expanding the number of its IMAX and Dolby Cinema premium screens, and NFT programs. The chain's boldest moves (before this one) were to accept cryptocurrency in theaters to boost attendance and to enter retail popcorn sales.
Meme money. AMC is using money it raked in from the meme investing frenzy – about $1.8 billion– to fund the investment. "Our strategic investment being announced today is the result of our having identified a company in an unrelated industry that appears to be just like AMC of a year ago. It, too, has rock-solid assets, but for a variety of reasons, it has been facing a severe and immediate liquidity issue," Aron said.
Hycroft: meme fumes. Hycroft is a deSPAC which closed back in May-2020 from a SPAC sponsored by Mudrick Capital. After hitting a peak of ~$15 in August 2020, HYMC stock has sunk steadily downward, trading at ~$0.30 before today's announcement. Mudrick moved on to Mudrick Capital Acquisition II (MUDS), which was set to merge with baseball card and collectible company Topps before that deal fell apart last summer. According to AMC, the Hycroft Mine has about 15 million ounces of gold deposits and some 600 million ounces of silver deposit. Notably, HYMC is doing its own at-the-market-offering to capitalize on the stock pop.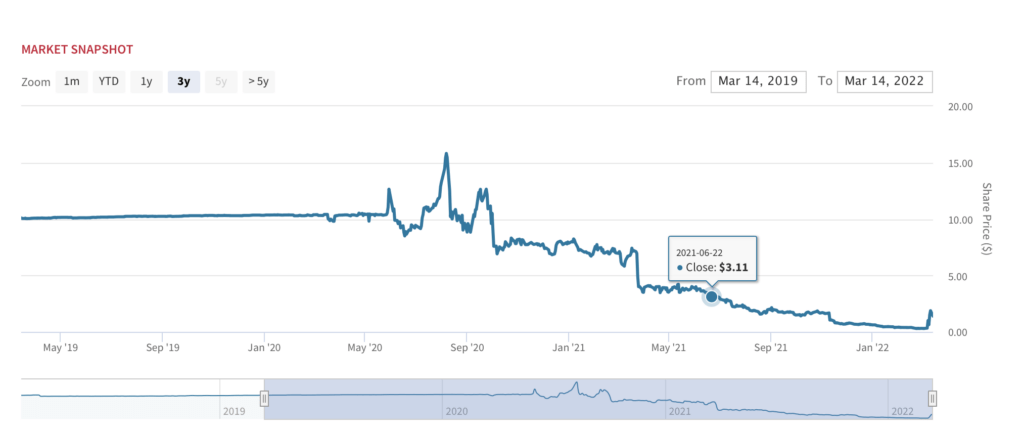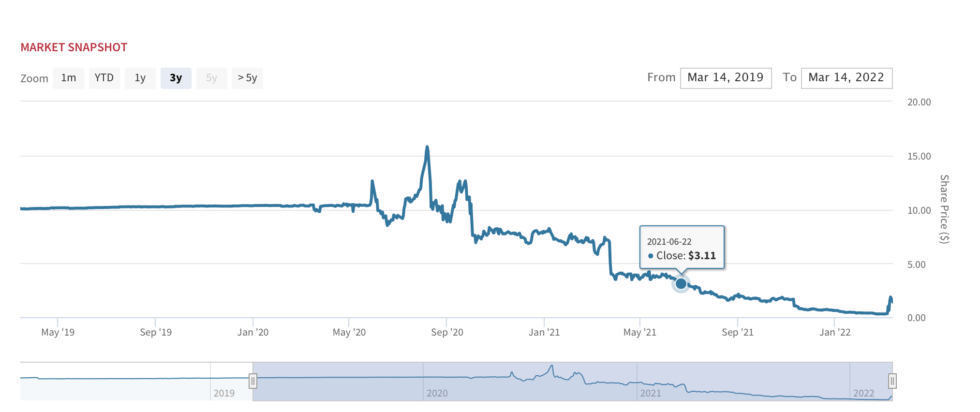 Source: Boardroom Alpha
AMC: Life as a meme stock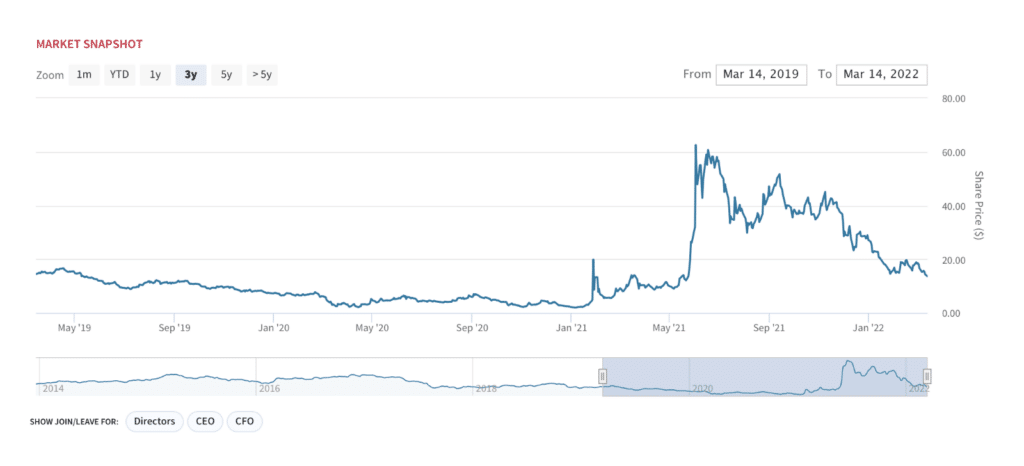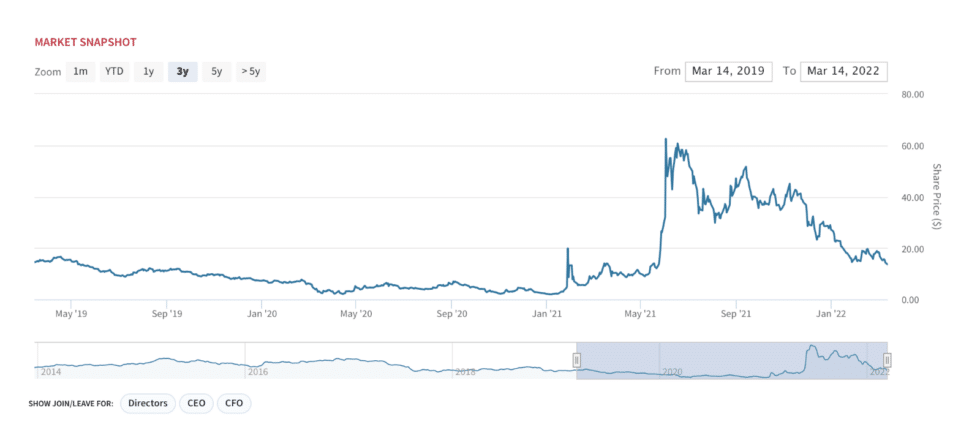 Source: Boardroom Alpha
Red flags. Even if you're committed to the AMC turnaround story, red flags are abundant, including a classified board structure, which staggers elections making it difficult to gain a board majority for takeover. In September 2021, a class action lawsuit was filed relating to AMC's $1.2 billion acquisition of Carmike Cinemas, suggesting that AMC made false statements and omitted information about the company's struggling financials.
AMC Red Flags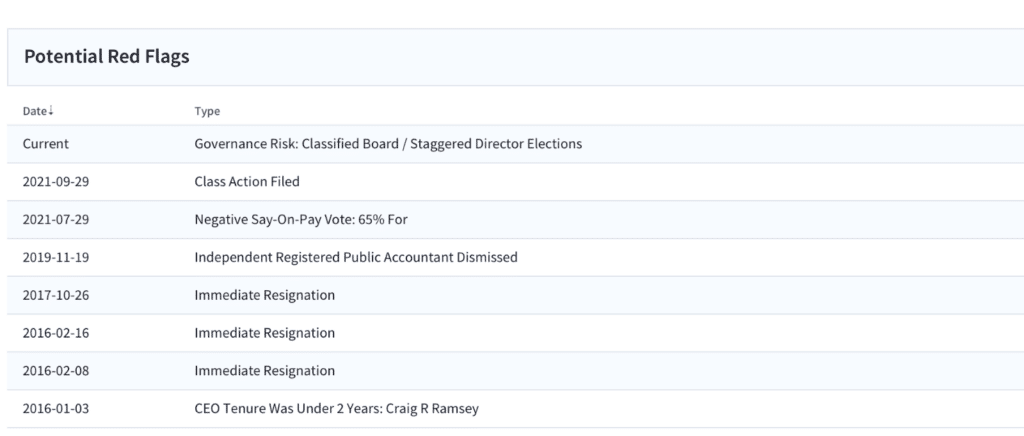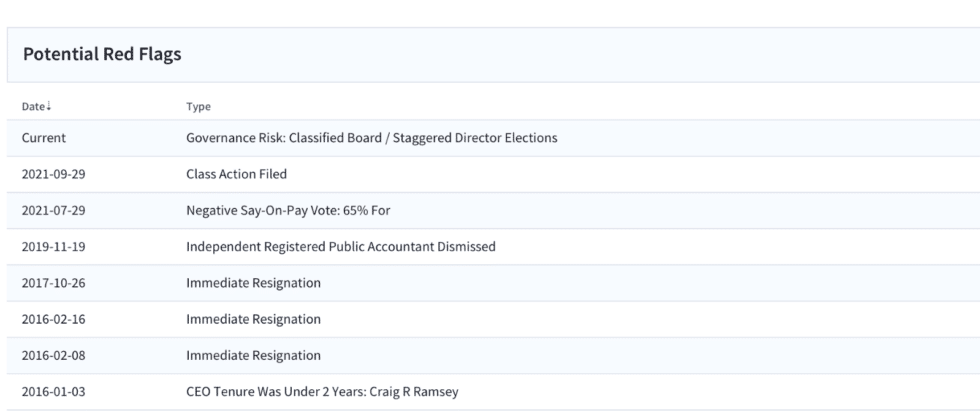 Source: Boardroom Alpha
Box office fundamentals are still weak. With AMC having recently reported its best Q4 earnings results in over two years, many retail investors saw glimmers of a turnaround. However, it's important to point out that fourth quarters are usually strong for theatre chains, with some big-ticket movie releases usually releasing during the tail-end of the year. It's important to look at the big picture. Although box office sales are bouncing back from their lows, with high-profile premieres like "The Batman" raking in $128.5 million in North American ticket sales opening weekend, the pandemic has forced AMC to radically diversify its business model. It's going to take more than popcorn and crypto to make that happen.
Streaming services are the death knell for theaters. Content producers are clearly shifting their business models towards streaming. Several of the top studios are releasing films on their respective OTT platforms and are gaining traction. Disney (DIS) is the best example of this shift. As former Disney Acquisition's Head Bob Iger puts it, "movie theaters as an experience won't go away."
Positive free cash flow (finally). Even before the pandemic, AMC was hardly profitable. But the good news is that the company has started to generate positive free cash flow and is no longer burning through its cash hoard. Net cash from operations was positive at $46.5 million in Q4. After deducting CAPEX of $38.5 million, free cash flow (FCF) was a positive $8 million last quarter.
Working the numbers. Consensus estimates call for ~$4.6 billion in revenue this year, up from $2.5 billion in 2021. Free cash flow (FCF) margin should rise substantially by the end of the year as more people go back to the movies (and buy popcorn– the most profitable piece of the business). Assuming the stock is valued at a 5% FCF yield by year-end (on FCF of ~$460 million), AMC's market value could rise to $9.2 billion from ~ $6.9 billion today. That implies AMC stock is worth ~$18 by the end of 2022. But again, these numbers are based on a doubling of revenues this year. We're not convinced.
Still a squeeze play. It's hard to get interested in the name for its fundamentals or even a potential value play given the retail-driven momentum and short interest, which still hovers at almost 20%.
We still can't justify the valuation; recovery is already priced in. To be fair, we think AMC is in a much better position now than it was a year ago. But AMC stock continues to trade at a lofty $6.9 billion valuation. At these levels, a potential recovery in its business has already been priced in. The market seems to agree. AMC shares are flat on the news, trading at ~$14.