Telehealth-related DA for DHAC, a deal termination for AKIC / DNEG. And the rest of the day's news in SPACs.
————————————————-
Free Investor Resources from Boardroom Alpha
—————————————————-
** Podcast: Know Who Drives Return
** Daily SPAC Newsletter
** Full SPAC Listing
Alvotech Debuts today
Icelandic biopharma Alvotech (ALVO) deSPAC'd today from Oaktree Acquisition Corp. II. The public listing ($293M market cap) is the largest debut on a US stock exchange by an Icelandic company. Shares closed at $10.95.
SPAC Deal: DHAC / VSee Lab
Digital Health Acquisition Corporation (DHAC) announces DA with VSee Lab, a telehealth software company and iDoc Telehealth Solutions, a leading neurocritical care and intensive care telehealth provider. The transaction values the company at an enterprise value of $110M.
June Deal Announcements


VGII Closes Merger with Grove Collaborative; GROV to trade tomorrow
Virgin Group Acquisition Corp. II (VGII) closes its merger with Grove Collaborative.The transaction included a $86M PIPE and $50M backstop; likely to see high redemptions. The sustainable consumer products company trades tomorrow on the NYSE as GROV.
SPAC Deal Termination: AKIC/ DNEG
Sports Ventures Acquisition Corp. (AKIC) and visual effects and animation company DNEG terminate deal due to "unfavorable market conditions." AKIC will continue to look for another transaction.
SPAC IPO: FLVU
Feutune Light Acquisition Corp. II (FLVU) prices $85M IPO. No business combination target noted. 
SPAC Daily Movers


SPAC Calendar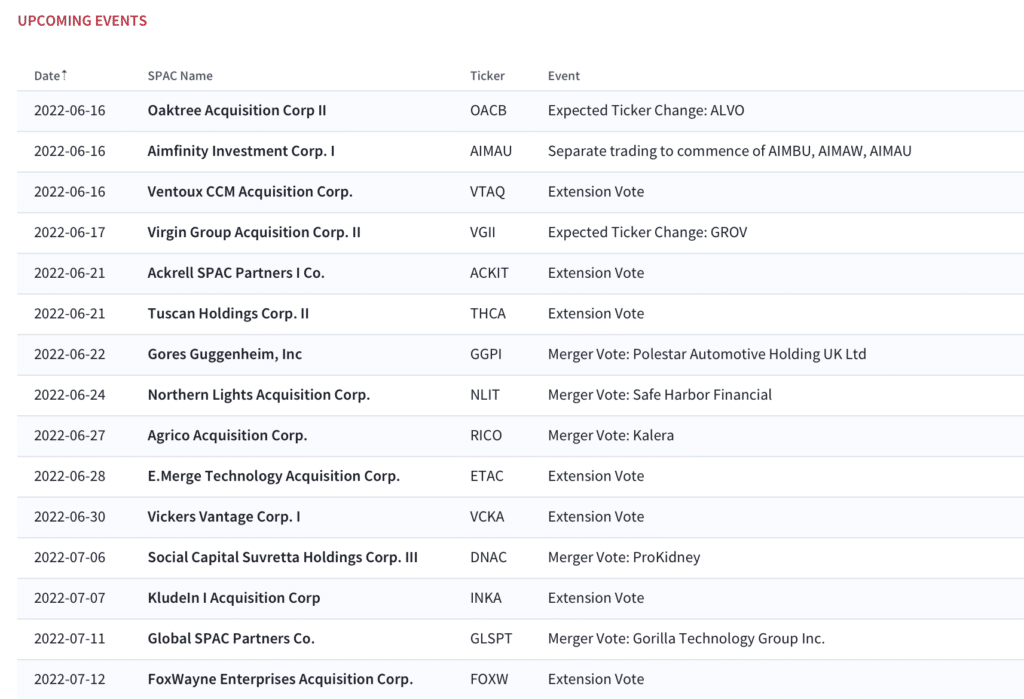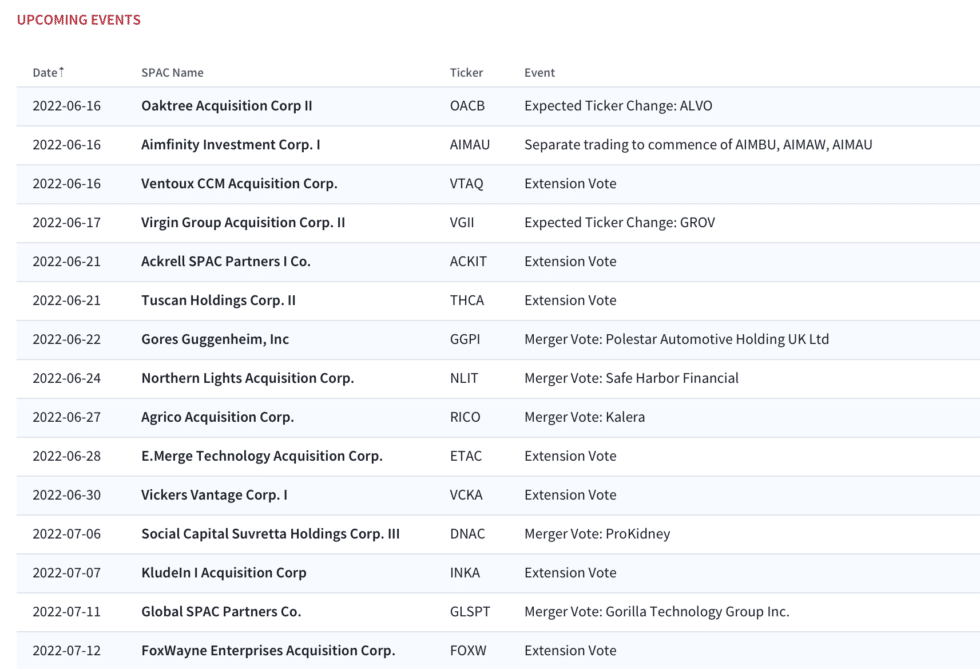 More from Boardroom Alpha
For ongoing tracking, analytics, and data on SPACs checkout Boardroom Alpha's SPAC Data and Analytics service.