Will Kohl's now turn its attention to a turnaround or will it sell?
Kohl's will keep current director slate after an unceremonious proxy battle. Shareholders of retailer Kohl's (KSS) voted yesterday to re-elect the company's current slate of 13 board directors. The retailer has faced pressure from activist Macellum Advisors, which had been calling for a complete overhaul. In February, Macellum nominated a slate of 10 directors, including its chief executive officer, Jonathan Duskin. The successful re-election of the existing board shouldn't come as much of a surprise given neither institutional shareholders nor proxy advisory firms have showed much interest in a takeover.
KSS: Market Snapshot


KSS has underperformed other retailers. Macellum has argued the company has underperformed in recent years compared with other retailers. Kohl's has delivered a 3-year TSR of 2%– versus 13% for the S&P 500 over the same period. Macellum has also been pushing for Kohl's to sell itself and to offload some of its real estate assets and lease it back to tap into additional capital. While other retailers including Big Lots (BIG) and Bed Bath & Beyond (BBBY) have done leasebacks, Kohl's has been resistant — stating that it would hurt Kohl's investment-grade status and compliance with debt covenants and increase rent expenses. The company did, however, engage investment bankers to evaluate bids. KSS trades at ~$47 as of this writing, down ~28% from a 52-week high of $64.80.
KSS: Shareholder return


KSS: Quarterly ROE and ROIC trends


Management has rejected multiple offers as inadequate. In January of this year, Kohl's acknowledged that it has received letters expressing interest in an acquisition. In March, Kohl's confirmed it had received multiple preliminary buyout offers after rejecting a bid from Acacia Research, backed by Starboard Value, at $64 per share. Notably, Acacia's offer represents 28% upside from KSS's current stock price. Private equity firm Sycamore Partners is rumored to have been another suitor, with an undisclosed offer. According to various reports, multiple parties have expressed interest in purchasing Kohl's at prices in the $65-$70 per share range, including a $68 bid from Brookfield Asset Management (BAM) and mall operator Simon Property Group (SPG)— which together acquired JCPenney out of bankruptcy in last December. Kohl's has indicated that the bids received undervalued its business in light of future growth and cash flow generation. The company also adopted a poison pill (which expires February 2023) in order to thwart Macellum and avert a hostile takeover.
Has management done enough to turn this around? Even before the pandemic, Kohl's was generating minimal sales growth as the company, like many big box retailers, struggled to adapt to e-commerce. Kohl's operates large stores that mostly anchor strip malls. CEO Michelle Gass, who has been at the helm for 4 years, saw that Kohl's stores were underperforming– largely because they were too big. People weren't browsing or, if they were, they were doing it online, at home. Gass downsized the product selection and started marketing to a younger demographic. She also astutely began a growth initiative to rent out portions of the stores to companies that would draw traffic — culminating in a well-regarded partnership with the Sephora (LVMH) beauty brand. That said, these efforts have failed to generate meaningful improvement in top line growth or operating efficiency. ROE in the company's most recently reported quarter was 6%, versus 21% for industry peers. The company's adjusted operating margin has declined to ~ 6% from peak levels of ~11%. Consensus estimates call for 2% sales growth this year and operating margin around 6% — well below the company's 7%-8% target.
Kohl's CEO Michele Gass: Performance scorecard over her 4-year tenure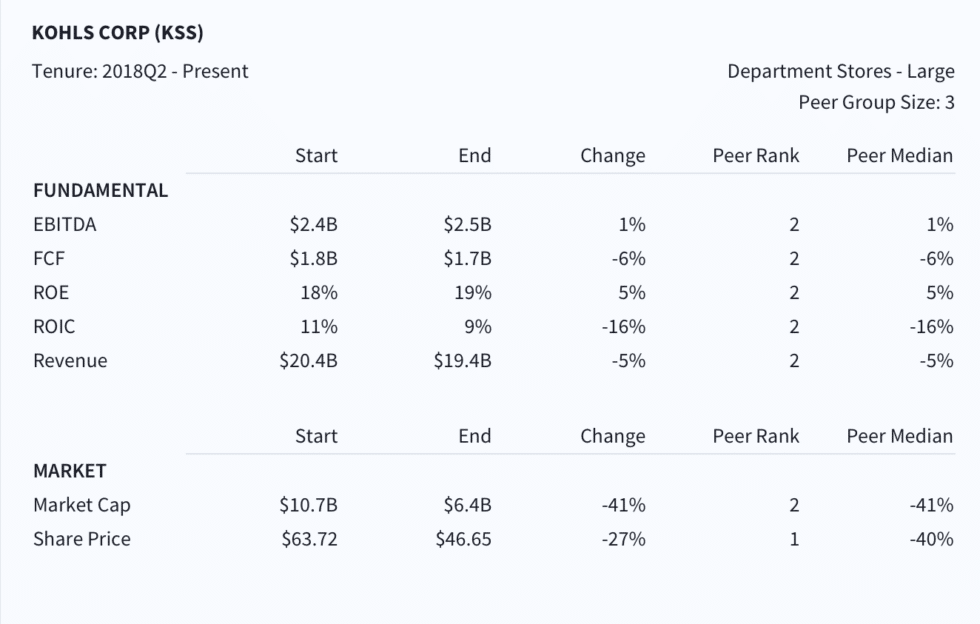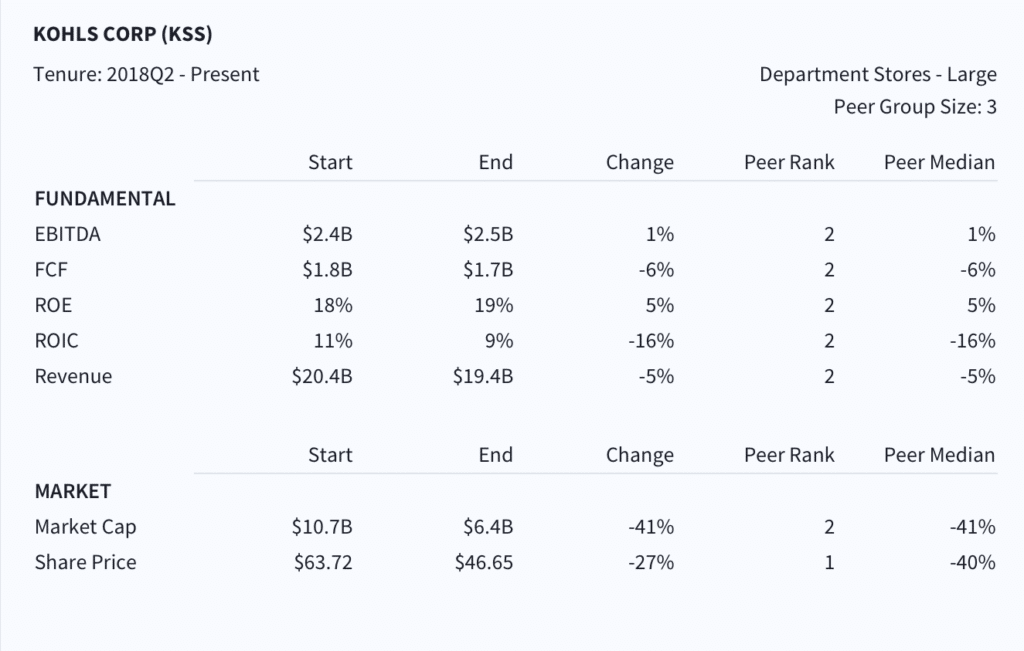 KSS: Board Snapshot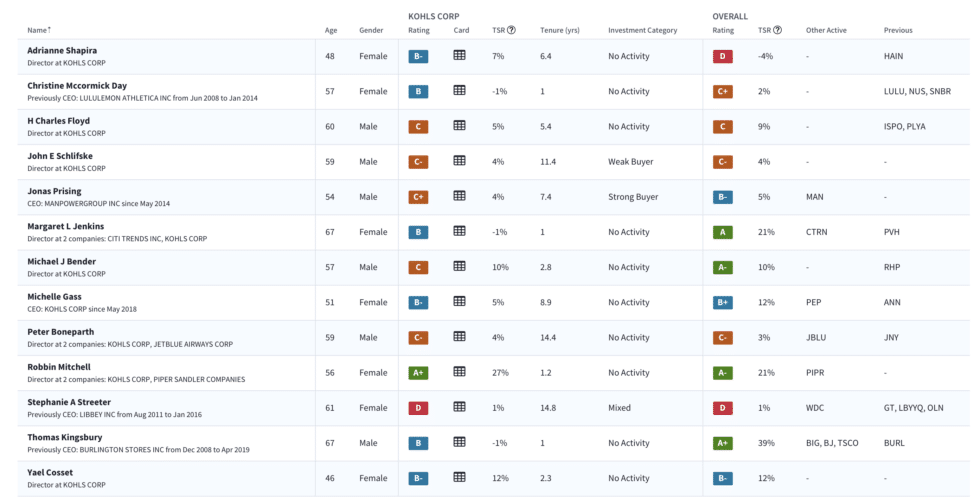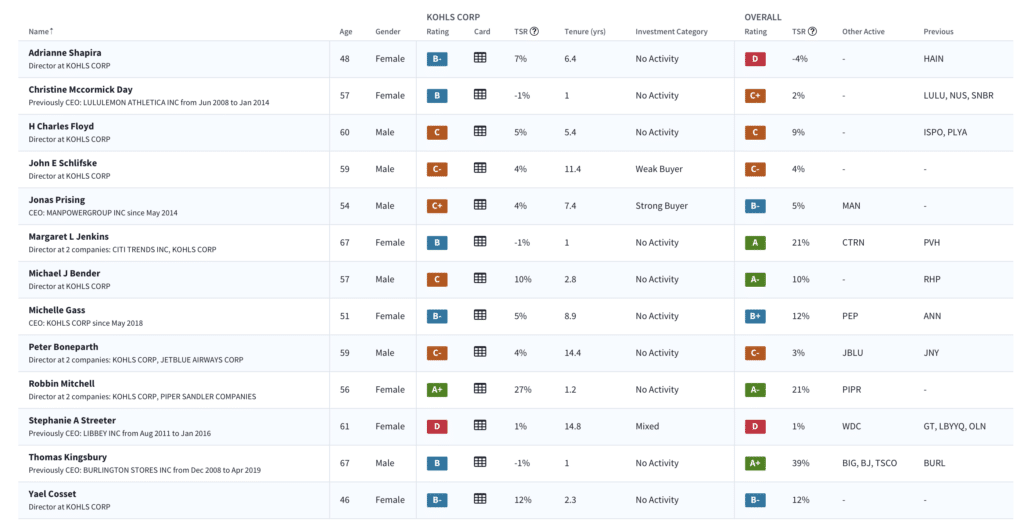 KSS insider trading activity: Nothing to see here


Does a lower share price make a deal less likely? Not necessarily. With the proxy fight in the rearview mirror, Kohl's management must now decide whether to accept a takeout bid for the company. It's still possible that Kohl's could agree to a sale; the company indicated yesterday it was reviewing options. In particular, Simon Property/Brookfield would appear to be a logical suitor given the potential synergies with the JC Penney business and accretive cash flow. "The [board] remains focused on running a robust and intentional review of strategic alternatives while executing our strategy to drive shareholder value," Peter Boneparth, Kohl's board chairman, said in a statement. "Kohl's has a bright future ahead."KSS trades at 4.8x forward EBITDA and 6.5x forward P/E. The best comparable national retail chain, Macy's (M), trades at a slight discount, at 4x forward EBITDA at 4.7x forward P/E.
1-year performance comparison: KSS versus M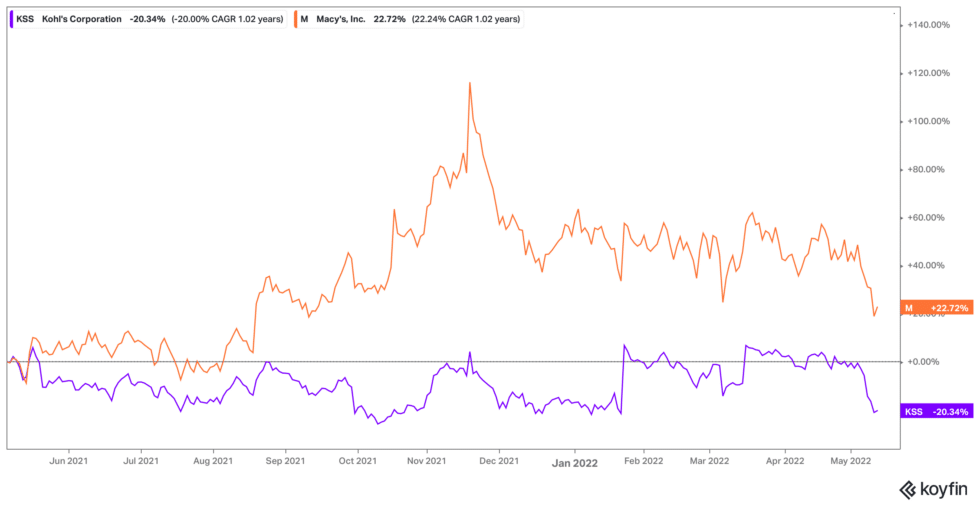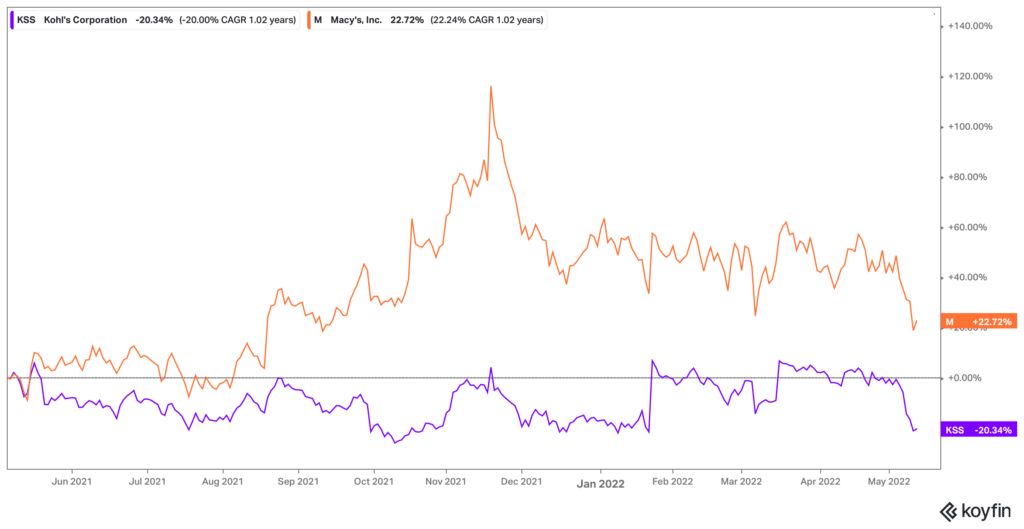 Latest Podcast: NYC Pension Funds Want Amazon Accountable for Human Capital
Our latest podcast explores the ESG situation at Amazon (AMZN), which is facing activist pressure as employees demand better working conditions. The tech giant has drawn increasing criticism for its treatment of workers, including claims of poor working conditions at its warehouses and attempts to block unionization. To dive into the details on why Amazon is failing in human capital management, Boardroom Alpha sat down with Michael Garland, Assistant Comptroller for Corporate Governance and Responsible Investment at the New York City Office of the Comptroller. Garland details the NYC Pension Funds' campaign– along with New York State Comptroller Thomas DiNapoli and trustees of all five of the New York City Retirement Systems– to unseat two Amazon board members responsible for human capital management– Daniel Huttenlocher and Judith McGrath. Amazon's annual shareholder meeting is coming up on May 25th.
Want to see more interesting growth companies up-close, hear from industry leaders and learn about the ESG trends driving the markets? Check out our latest Boardroom Alpha podcasts here.
Get in Touch
Your comments and feedback are always welcome. Let's continue the discussion. Email me at joanna@boardroomalpha.com.