Alta Fox Capital Management wants to make some changes at toymaker Hasbro (HAS). The activist investor owns a 2.5% stake in the company (approximately $325 million).
In a letter to Hasbro shareholders:
Alta nominated five directors: Matthew Calkins, founder and CEO of cloud-computing company Appian Corp.; Jon Finkel, Managing Partner at investment management firm Landscape Capital Management LLC, who has also played HAS games professionally; Marcelo Fischer; Rani Hublou; and Carolyn Johnson 
Wants Hasbro to make changes to its current business strategy for developing brands, replacing its "brand blueprint" strategy with a plan that focuses on growing profitability in its consumer products and entertainment divisions.
Suggests a spin-off of Hasbro's Wizards of the Coast unit, the unit that houses the Dungeons & Dragons business.
Hasbro has met with Alta Fox and plans to review its nominees "in due course." Shareholders will vote on director nominees at Hasbro's annual meeting this spring.
HAS in Brief
Competition from MAT intensifying. Mattel (MAT), whose brands include Barbie and Hot Wheels, has been HAS' main rival in recent years. In 2017, when Hasbro was twice the size of Mattel, it made an unsuccessful takeover offer for the company. Mattel has since made bold changes, including cost cuts, an overhauled leadership team and updates to its brands. Both HAS and MAT enjoyed a toy-related spending boost during the pandemic, although decreased attendance at movie theaters negatively impacted character-driven toy sales.
HAS guides for slowing growth. While the toy and game industry has experienced above-average growth over the past two years, Hasbro expects growth to slow. The company has guided for revenue growth in the low single digits in 2022. Slowing growth is also attributable to the pandemic's impact on the company's film production. HAS' newest "Transformers" film was delayed until 2023, which translates into delays in ticket sales and product lines. Hasbro also lost its lucrative Disney princess license to Mattel last month.
Rising costs are another concern. HAS Q4 revenue and EPS exceeded expectations, posting EPS of $1.21 per share on revenue of $2.01 billion. However, like many consumer packaged goods companies, rising logistics costs are a concern.  Supply chain constraints continue as management has stated lead times for inventory from China have tripled on average. Management expects higher freight and product costs in the current quarter. Cost pressures are expected to continue through 2022. HAS plans to offset some of those costs with price increases to consumers starting in Q2.
Wizards is the "hidden gem business." HAS' toy division accounted for $3.98 billion, or 62% of total sales, in 2021. However, growth is ramping in what Alta Fox calls the company's "hidden gem," — its Wizards of the Coast (WOTC) and digital gaming segment. WOTC includes strong franchise brands like Dungeons and Dragons and Magic: The Gathering. Wizards generated 2021 sales of $1.28 billion (20% of total). Entertainment accounts for the remaining 17.9% of sales ($1.15 billion).
Alta wants to change HAS' brand strategy. Alta seeks to replace Hasbro's current strategy for developing brands, a blueprint put in place by the company's late CEO Brian Goldner, who unexpectedly passed away last October. Hasbro's current brand strategy uses storytelling to drive promotions and toy sales. For example, the company leverages its toy brands like Transformers and My Little Pony to fuel entertainment content and then that entertainment content to fuel sales of toys. These brands have also been leveraged into publishing, apparel and accessories. Under Goldner, Hasbro successfully grew beyond toys and games into television, movies and digital gaming. HAS is currently producing a Dungeons and Dragons movie and television show through eOne.
Board and Governance
Board Composition. Current board does well on gender diversity (6/4 female/male), but several members lack C-suite experience. Insider selling has been high over the past 12 months (22 sells).
New CEO (start later this month) led WOTC business. Chris Cocks, former Wizards of the coast president, takes over as CEO starting February 25 from interim CEO Rich Stoddart, who held the position after Goldner's unexpected passing. Cocks, who has been at Hasbro since 2016, has grown Wizards of the Coast into one of Hasbro's top revenue drivers, more than doubling the business since he took the helm. Analysts have speculated that Hasbro may be intentionally setting its goals low for the next few years as Cocks settles into his role as CEO.
Other red flags. Shareholders are increasingly unhappy with executive compensation as only 81% approved in 2021. Insiders are only selling, no buys, and outpacing peers in those sales.
Hasbro's Current Board Diversity


Hasbro's Current Board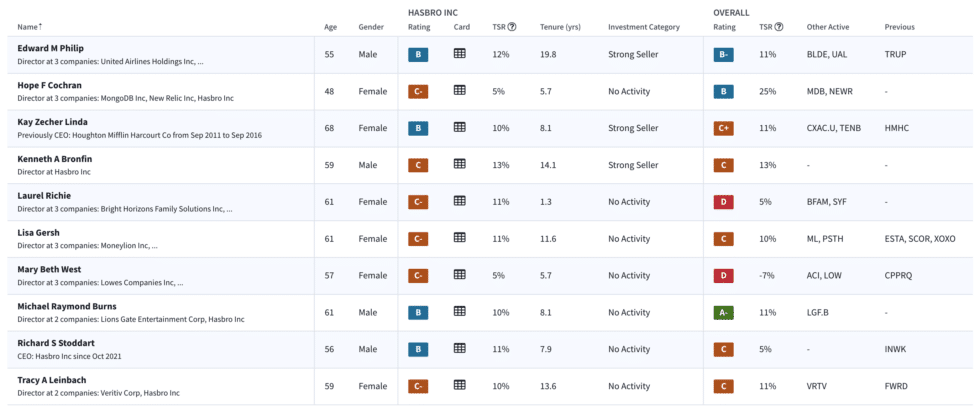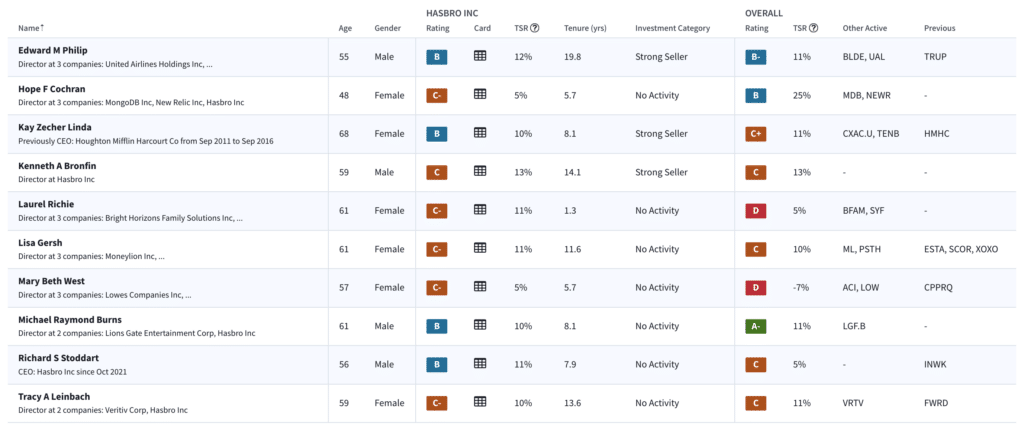 Hasbro's Insider Selling
Shareholder's Starting to Agitate on Hasbro Say-on-Pay Votes
While 2021's say-on-pay vote was not an outright failure, it is clear shareholders are increasingly upset with performance and pay. Given Alta Fox's agitation, company performance, and last year's decline in votes for, 2022's vote is one to watch.

Hasbro Board Compensation Higher than Apple's
In their push for new board members, Alta Fox calls out Hasbro for what it believes to be an outsized board and overall compensation going to that board. In particular, it cites the fact that Hasbro (left) pays more to its board than Apple (right).
HAS Stock: Potential upside could come from WOTC valuation unlocking
HAS stock has been bouncing back, but it still remains down over 20% from its peak in 2019.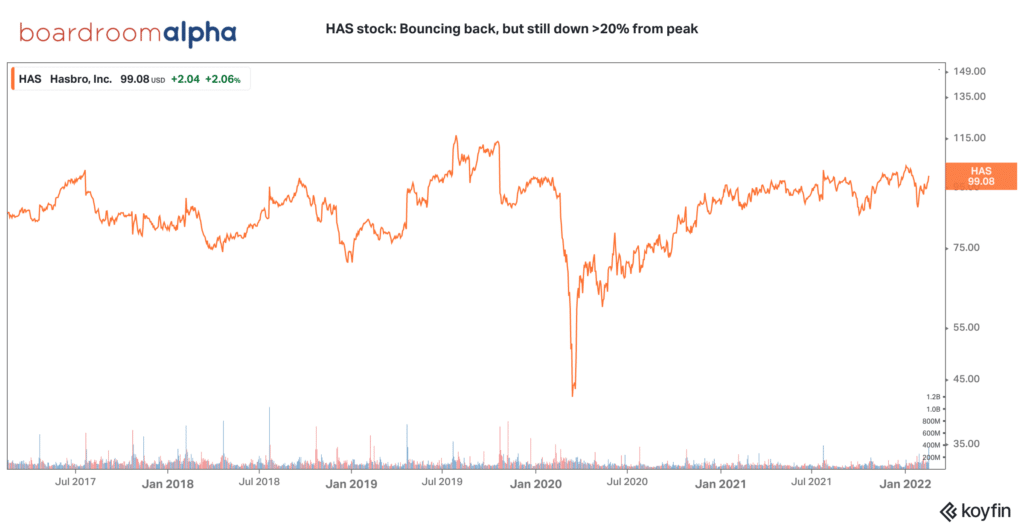 Alta argues that a WOTC spin-off should unlock value. Alta argues that WOTC deserves a 20x EBITDA multiple (versus an implied 11.8x currently), and that a spin-off would allow for a re-rating which would increase Hasbro's share value by $100. Notably, WOTC has a substantially higher growth, margin and valuation profile compared to Hasbro's core toy/game segments.
HAS shares down over 20% from highs. HAS stock trades ~$100 per share, down from an all-time high of $127 achieved prior to the pandemic and prior to the company's acquisition of Entertainment One (eOne), which effectively transformed the company's media business. At these levels, we see reduced revenue and profitability as largely priced into the stock. A potential spin-off of the premium WOTC business would create a value-unlocking for shares. At the same time, the stock has an attractive dividend yield of 2.72%.