The real price of an entrenched board appears reflected in the value destruction of QUOT stock
Engaged Capital shaking things up at Quotient Technology (QUOT). Activist investor Engaged Capital, which owns ~6.4% of outstanding QUOT shares, has been steadily pushing for change at the company. The firm strongly believes Quotient's underperformance is directly tied to its poor corporate governance. Recent executive changes announced at the company are largely in response to a letter sent by Engaged to the board in November 2021 highlighting the company's relative underperformance to peers, poor corporate governance practices and operating issues.
Governance red flags everywhere. Looking more closely at QUOT's governance, Engaged has reason for concern. QUOT has largely been run by its founder and CEO Steven Boal much like a private company. Several red flags: Boal has served as combined CEO and board chairman since 1998. Boal stepped away as CEO in 2017 but remained chairman and took the reins back as CEO just two years later. QUOT has a staggered board, which means only two directors will stand for re-election this year; and the company operates via a plurality vote in uncontested elections. These are largely antiquated governance features most companies have done away with years ago. To make matters worse, QUOT has also made more aggressive moves underscoring the interests of an entrenched board. First, the company took action to prevent a hostile takeover by instituting a 4.9% net-operating-loss (NOL) poison pill without a shareholder vote at the same time Engaged acquired its position. Second, QUOT decreased the number of directors up for election this year from three to two. These are actions designed to make it more difficult for shareholders to materially change the composition of the board.
Quotient in brief. Quotient Technology, formerly known as Coupons.com, is a digital media and promotions technology company that offers integrated digital media and promotions programs for brands and retailers. The company operates two business segments: 1) Promotions, which offers digital coupons, including online printable, social, mobile, and loyalty card promotions; and 2) Digital Media, which provides targeted ads to customers. The company has gathered valuable customer shopping data insights and counts over 800 Consumer Packaged Goods (CPG) companies and retailers as customers.
QUOT: Diminishing returns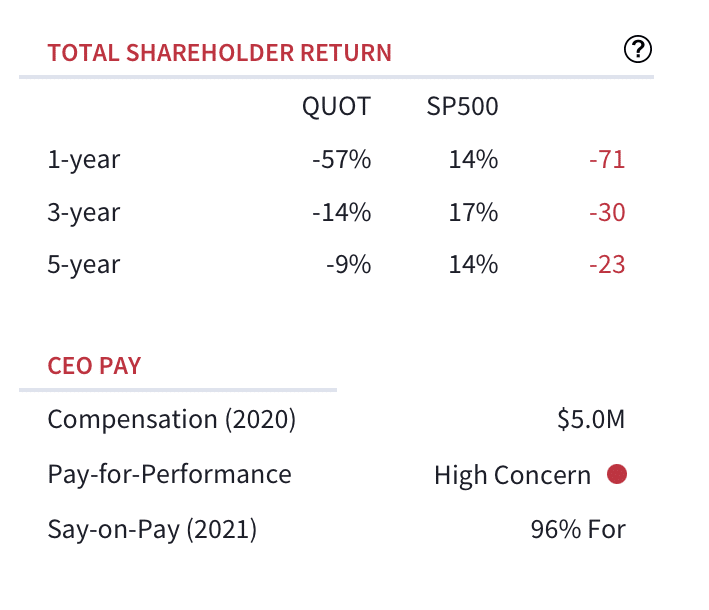 Source: Boardroom Alpha
QUOT hasn't handled the digital transition well; margins are well below peers. QUOT hasn't done well to pivot amidst an industry transition from paper to digital advertising and the explosive growth of e-commerce. The company has consistently missed quarterly targets and has underperformed the S&P 500 on 1-, 3-, and 5-year periods by -71%, -30% and -23%, respectively. In the company's most recently reported Q4 earnings results, QUOT cut guidance and revealed it had lost a key customer, Albertsons Companies (ACI). QUOT shares are down from 63% from their 52-week high of ~$18 and have declined ~58% over the past 12 months, shrinking the company's market cap to ~$630 million currently. The company is guiding to blended EBITDA Margin of 7% to 8%– well below the 35%+ margins for similar AdTech businesses.
QUOT stock trades at all-time lows: A CEO with an iron grip.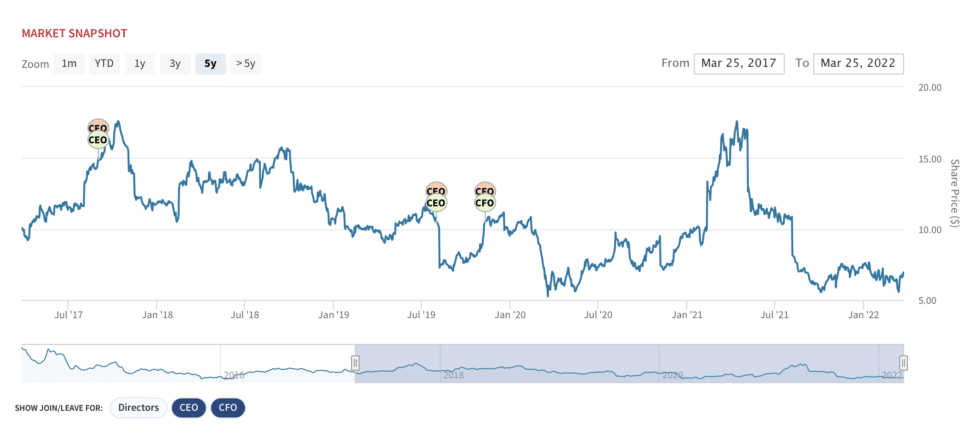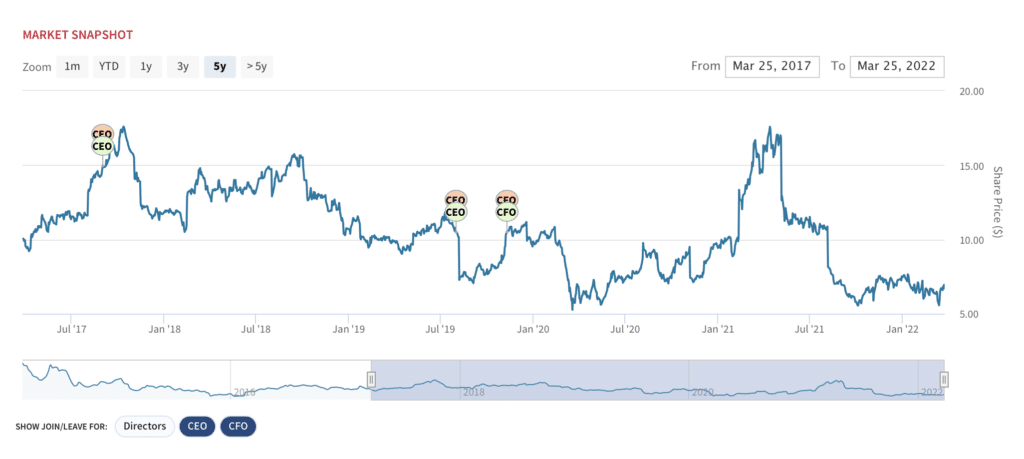 Source: Boardroom Alpha
Engaged nominates two directors. Earlier this month, Engaged nominated two directors to the board in an attempt to replace the company's Chairman and Chief Executive Officer Steven Boal: Christopher Hetrick, Engaged's Director of Research, and media consultant Matthew O'Grady.
Quotient makes some changes…. Last week, Quotient announced several executive changes, First, Boal plans to step down as CEO by year-end and will be replaced by Matthew Krepsik, currently CTO. The company announced it would separate the roles of Chair and CEO and would elect Robert McDonald as mon-executive Chair of the Board (effective March 23). QUOT appointed Eric Higgs as a Class I director, effective immediately, replacing Christy Wyatt. Finally, the company announced it's hired an outside advisor and is embarking on a strategic review.
…but mostly "a game of corporate musical chairs." According to Engaged in a written response to the company, the changes are "nothing more than a defensive tactic to present stockholders with the illusion of meaningful change. In reality, all the Board has done is shuffle leadership around with the intent to further entrench incumbent directors and management. This same leadership structure has presided over QUOT's staggering underperformance and, in our view, has proven itself utterly incapable of creating any value for stockholders." In particular, Engaged points out that Boal effectively becomes a "shadow" Director with continued influence on the company. Engaged is also displeased by the election of Higgs to the board, who the firm describes as "another entrenchment tactic….as the Board has decided to promote someone who has a long history of prioritizing Mr. Boal's personal wishes over the interests of stockholders." The firm continues to push for its two Board nominations at the upcoming 2022 annual meeting.
Other red flags. The main concern here is the obvious underperformance of the stock relative to benchmarks. In addition, insiders sold $1.2M in stock over the last 12 months.
Red flags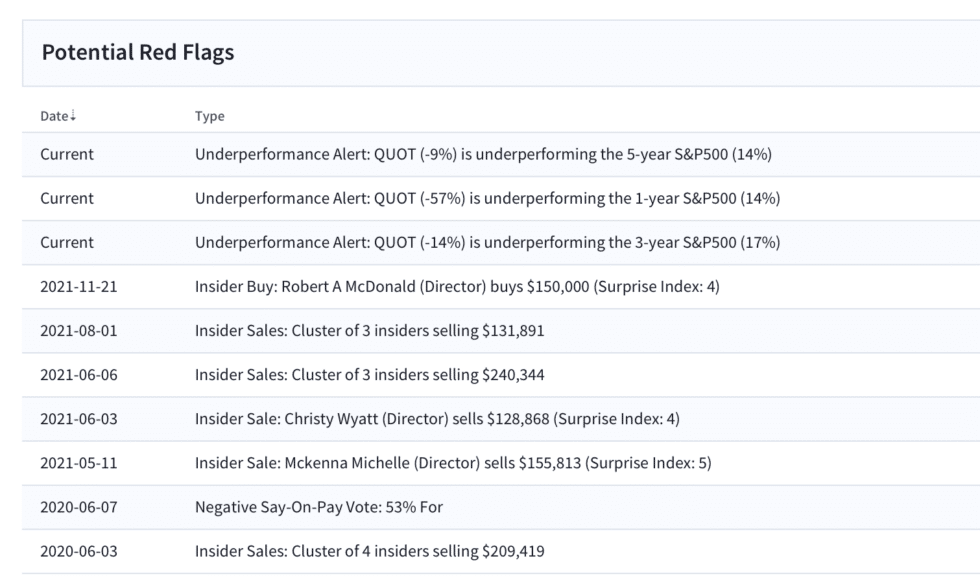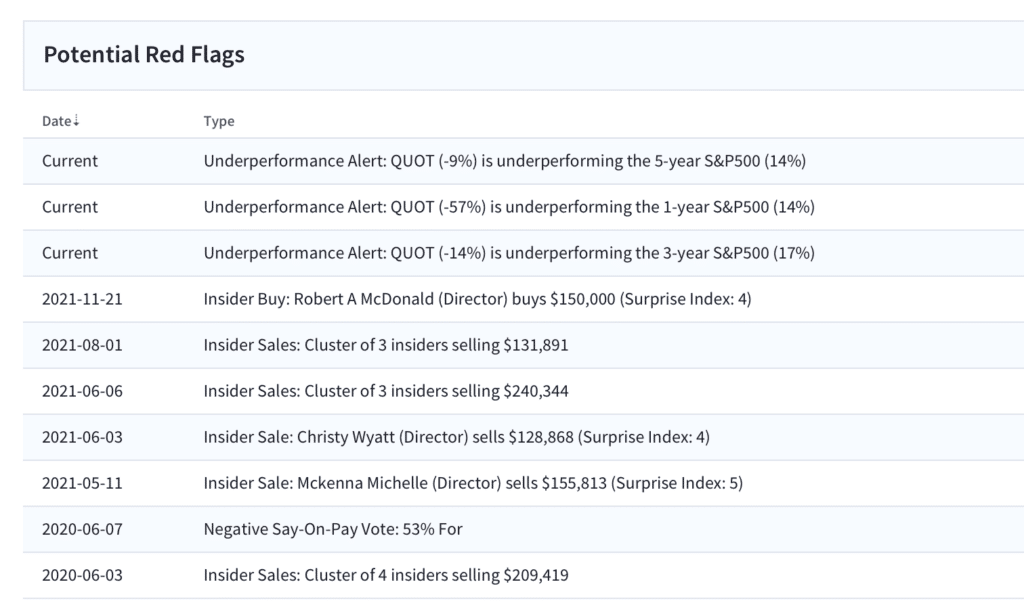 Source: Boardroom Alpha
QUOT stock: likely to languish without further shakeup. QUOT shares trade 17x EV/EBITDA basis and 1.6x forward sales. Digital and AI-driven influencer marketing peers include Clear Channel Outdoor Holdings (CCO),Thryv (THRY), Travelzoo (TZOO), Izea Worldwide (IZEA), Inuvo (INUV), SurgePays (SURG), and Groupon (GRPN). With poor profitability and seeming bloated operating structure, we think ultimately, the best path forward for the company is 1) bring in a new management team with deep digital ad experience; or 2) sell to a strategic investor who can better manage the business. We expect Engaged to continue to chip away at the board structure in an effort to deliver on the above. The staggered board structure makes it difficult, but Engaged prevailed in a very similar situation with rent-to-own company Rent-A-Center (RCII) back in 2014. Over an almost 5-year campaign, the firm nominated a full slate of three directors to the staggered board, won the proxy fight, and removed three incumbent directors. Rent-A-Center was ultimately acquired by Vantage Capital for $15/share, generating an almost 240% return versus 85% for the S&P 500 over the same time period. Patience and persistence will likely deliver success here too.