The bloom may be off the deSPAC rose. But there's still plenty of opportunity in discounted pre-deal SPACs—even if they don't make it to the finish line.
SPACs are off to a bumpy start this year. A macro now approach bear territory has resulted in fewer deal announcements, while many announced transactions are either (1) failing to make it to the finish line — 6 have failed so far this year — or (2) being downsized. At the same time, deSPAC stock performance has been painful to say the least, as rising redemptions, interest rate concerns, deferred revenue/profitability profiles of many new issues, and now potential war in the Ukraine pressure valuations.
---
Boardroom Alpha Monthly SPAC Review
---
Relative to 2021, the bloom may be off the SPAC rose. But our latest conversation suggests there are still ways to generate positive returns in SPAC investing. Boardroom Alpha sat down with David Sherman, Founder and Portfolio Manager at SEC-registered investment adviser CrossingBridge Advisors. Based in Pleasantville, New York, with $2.3 billion AUM (Assets Under Management), CrossingBridge specializes in ultra-short duration, low duration high yield and responsible credit strategies in addition to SPACs.
Among his many portfolio manager hats, Sherman manages the CrossingBridge Pre-Merger SPAC ETF (NASDAQ:SPC). The ETF invests only in pre-merger SPACs at or below par value and will only hold the shares for up to 10 days post-merger.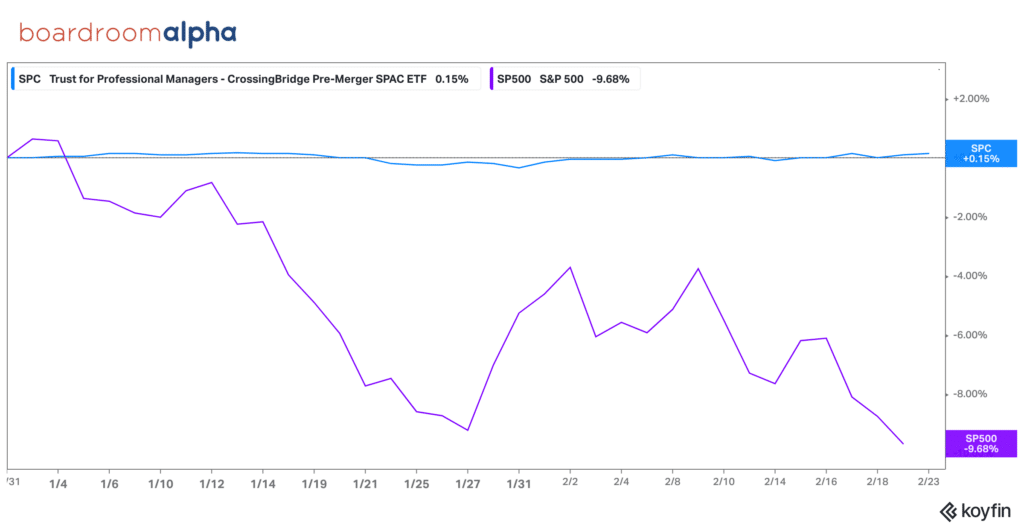 With the deSPAC market in shambles, Sherman's ETF offers an alternative approach. SPC aims to capitalize on a short-term trading window– the fixed income nature of pre-merger, discounted SPACs that may get an equity "pop" from a deal announcement. Sherman buys pre-merger SPACs below trust value and holds them to redemption or liquidation—ideally generating a positive yield, similar to a short-term zero-coupon bond trading at a discount. SPC's goal is to generate positive yields that outpace traditional fixed-income products.
The Big Picture for SPACs
Valuations on pre-merger SPACs aren't as fizzy as they used to be. Despite some notable exceptions– like CF Acquisition Corp. (CFVI), which is planning to merge with streaming platform and Joe Rogan affiliated Rumble; and Trump SPAC Digital World Acquisition Corp. (DWAC), investor enthusiasm on announced deals appears to be near zero. Fewer deal announcements and cooling valuations are the new normal as post-close financing via PIPE or otherwise is harder than ever — especially given the high redemption environment.
DWAC is an Anomaly with Even CFVI Barely Only at $12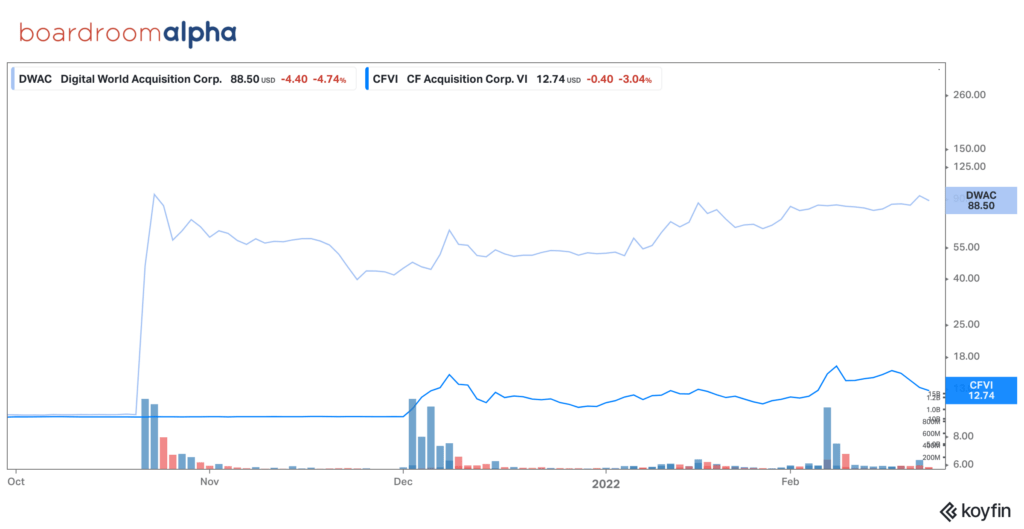 Most SPACs with Deals Trade Below NAV
Without DWAC, the average for announced deals would be well under NAV.


SPAC Redemptions Are Killing the Market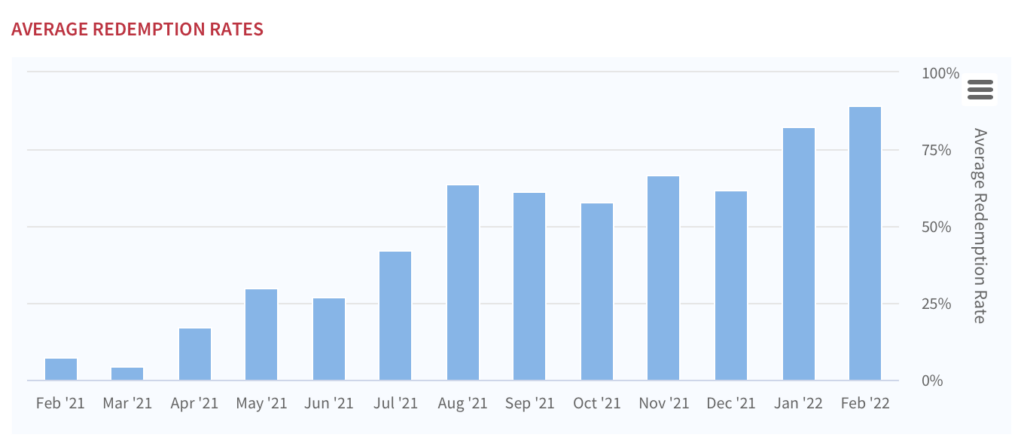 Redemption rates on the rise. Redemptions (89% for February) have been steadily rising since December 2021 (61%), reflecting reduced confidence in business fundamentals. Redemptions were 7% in February 2021. High redemptions have thwarted deals without PIPEs, such as what we saw earlier this week at Astrea Acquisition Corp. (ASAX), which terminated its merger with HotelPlanner and Reservations.com.
DeSPACs are increasingly risky business. As Sherman points out, investing in deSPACs is a "random walk" without deep insight into the fundamentals. Notably, the two funds that partially track deSPACs have posted negative returns this year. Morgan Creek Capital Management Exos SPAC Originated ETF (NYSEARCA:SPXZ) is down 14% year-to-date. The Defiance Next Gen SPAC Derived ETF (NYSEARCA:SPAK) is down 15%. In contrast, the S&P 500 (SPX) is down 7% over the same period.