The FaZe Clan (FAZE) is set to make its public trading debut tomorrow and it will ring the bell at Nasdaq. The deal was approved last week and will be surely watched by traders and FaZe enthusiasts alike. BRPM shares closed up big today (likely on anticipations of a low float) +17% to $13.02.
Elsewhere in SPACs
Elsewhere, it was a busy afternoon of 8-K cleanup in SPAC land with plenty of redemption numbers, deal rumors and cancellations.
CleanTech Acquisition Corp. (CLAQ) filed that its shareholders approved 6 1-month extensions (cancelling their original sponsor options) at $100K each out until January 2023
Clover Leaf Capital Corp. (CLOE) confirmed that it deposited $0.10 in its trust to extend for 3 months. The company has two 3-month sponsor exemption remaining
Bloomberg is reporting that NewAmsterdam Pharma is in talks to go public Frazier Lifesciences Acquisition Corp. (FLAC)
Almost 90% redemptions for Chavant Capital Acquisition Corp. (CLAY) on its extension vote.
Aesther Healthcare Acquisition Corp. (AEHA) terminated its merger agreement with United Gear & Assembly and intends to keep searching for a new target
Brilliant Acquisition Corp. (BRLI) confirmed its extension was approved and added $0.12 / share out till October. 1M shares redeemed.
Upcoming SPAC Calendar
Full calendar and SPAC database access here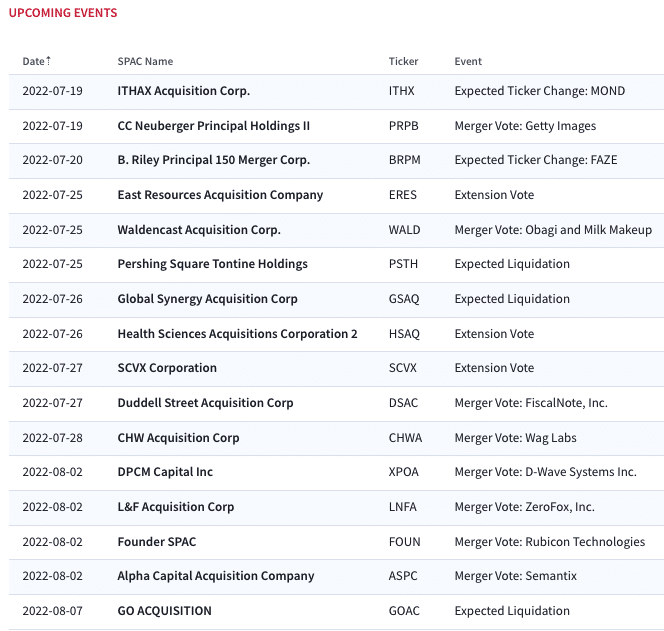 Today's SPAC Stock Movers
Biggest SPAC Gainers
17.83% ~ $ 13.02 | BRPM – B. Riley Principal 150 Merger Corp. (Announced)
2.73% ~ $ 10.15 | ACTD – ArcLight Clean Transition Corp. II (Announced)
.70% ~ $ 10.00 | GWII – Good Works II Acquisition Corp. (Pre-Deal)
.62% ~ $ 9.73 | HWEL – Healthwell Acquisition Corp. I (Pre-Deal)
.61% ~ $ 9.91 | VBOC – Viscogliosi Brothers Acquisition Corp (Pre-Deal)
.60% ~ $ 10.01 | BMAC – Black Mountain Acquisition Corp. (Pre-Deal)
.54% ~ $ 10.19 | VTAQ – Ventoux CCM Acquisition Corp. (Announced)
.52% ~ $ 9.67 | CDAQ – Compass Digital Acquisition Corp. (Pre-Deal)
.51% ~ $ 9.90 | ACAX – Alset Capital Acquisition Corp. (Pre-Deal)
.51% ~ $ 9.94 | CLRC – ClimateRock (Pre-Deal)
.50% ~ $ 9.98 | SGHL – Signal Hill Acquisition Corp. (Pre-Deal)
.50% ~ $ 9.99 | BYNO – byNordic Acquisition Corporation (Pre-Deal)
.50% ~ $ 10.03 | CND – Concord Acquisition Corp (Announced)
.50% ~ $ 10.05 | SHAP – Spree Acquisition Corp. 1 Ltd (Pre-Deal)
.41% ~ $ 9.74 | CORS – Corsair Partnering Corporation (Pre-Deal)
.41% ~ $ 9.74 | DUNE – Dune Acquisition Corporation (Announced)
.41% ~ $ 9.84 | CSLM – Consilium Acquisition Corp I, Ltd. (Pre-Deal)
.41% ~ $ 9.88 | EPWR – Empowerment & Inclusion Capital I Corp (Pre-Deal)
.40% ~ $ 10.08 | CFVI – CF Acquisition Corp. VI (Announced)
.39% ~ $ 10.36 | ATA – AMERICAS TECHNOLOGY ACQUISITION CORP. (Announced)
Biggest SPAC Losers
-3.33% ~ $ 10.17 | CLAQ – cleantech Acquisition Corp. (Announced)
-2.59% ~ $ 9.98 | NLIT – Northern Lights Acquisition Corp. (Announced)
-1.38% ~ $ 10.02 | KINZ – KINS Technology Group Inc. (Pre-Deal)
-.80% ~ $ 9.94 | WQGA – World Quantum Growth Acquisition Corp (Pre-Deal)
-.62% ~ $ 9.63 | GHIX – Gores Holdings IX, Inc. (Pre-Deal)
-.60% ~ $ 9.93 | MEKA – MELI Kaszek Pioneer Corp (Pre-Deal)
-.41% ~ $ 9.67 | ALCC – AltC Acquisition Corp. (Pre-Deal)
-.41% ~ $ 9.68 | PRPB – CC Neuberger Principal Holdings II (Announced)
-.41% ~ $ 9.80 | KYCH – Keyarch Acquisition Corp (Pre-Deal)
-.41% ~ $ 9.81 | MSAC – Medicus Sciences Acquisition Corp. (Pre-Deal)
-.40% ~ $ 9.93 | TGVC – TG Venture Acquisition Corp. (Pre-Deal)
-.40% ~ $ 10.00 | SPK – SPK Acquisition Corp. (Announced)
-.40% ~ $ 10.01 | GEEX – Games & Esports Experience Acquisition Corp. (Pre-Deal)
-.40% ~ $ 10.06 | IFIN – InFinT Acquisition Corporation (Pre-Deal)
-.31% ~ $ 9.68 | SLVR – SILVERspac Inc (Pre-Deal)
-.31% ~ $ 9.78 | GAQ – Generation Asia I Acquisition Ltd (Pre-Deal)
-.31% ~ $ 9.80 | TIOA – Tio Tech A (Pre-Deal)
-.30% ~ $ 9.81 | DHCA – DHC Acquisition Corp (Pre-Deal)
-.30% ~ $ 9.85 | SAMA – Schultze Special Purpose Acquisition Corp. II (Pre-Deal)
-.30% ~ $ 9.90 | LGTO – LEGATO MERGER CORP. II (Announced)