Activist investors Starboard Value LP successfully won their long proxy battle with chemicals company GCP Applied Technologies, voting in 8 director nominees to the board last month – the culmination of a fight stretching back to last year.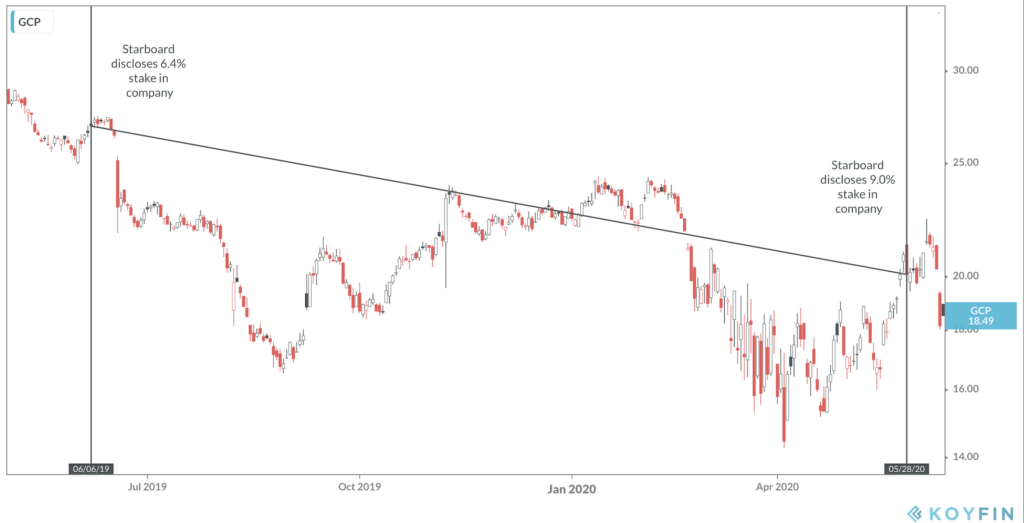 "Unreasonable" Demands
Starboard has been agitating for change at GCP for since early 2019, and won two board seats later that March following an agreement with the company. Starboard nominated Clay Kiefaber, former CEO of Colfax, and Marran Ogilvie, former longtime Raimus executive.
GCP then undertook a strategic review, appointed a new CEO (Randall Dearth) in August, de-staggered their board, but ultimately failed to find a buyer
Unsatisfied with the progress (or lack thereof) Starboard again called for change and nominated 8 individuals in an effort to fully take control of the board at this year's annual meeting. Among Starboard's major gripes was the board's lack of personal financial interest in company stock – stating that the board collectively owned < 1% of the outstanding equity.
GCP responded with a letter to shareholders urging them to vote against Starboard's "Unreasonable Demands."
Starboard resoundingly won control following the vote, electing their full slate of nominees. New CEO Randall Dearth's board now contains 80% Starboard appointees.

GCP's New Board:
A few highlights stand out to us for GCP:
The entire board is now essentially brand new, having all joined within the last two years.. a rarity, considering GCP has been a public entity for over 4 years since they separated from WR Grace
Peter A Feld: the veteran Starboard partner's 13th public company board seat at just 40 years old. He currently sits on 4 boards. He becomes Independent Chairman of GCP
First public boards stints for both Armand Lauzon and Kevin Brown
30% women puts them a solid 10% above their peer average, according to Boardroom Alpha Data
Will the two sides play nice in the sand?
Said CEO Randall Dearth,
"I, together with the entire management team, look forward to working collaboratively with the new Board to build on our momentum, execute our strategic operating plan, and drive GCP's continued progress"
and Peter Feld,
"The new Board wishes the departing directors well, and we thank them and their advisors for ensuring a smooth and seamless transition process that will allow us to immediately focus on the priorities at hand."