Every week we wrap the latest on new SPACs filed, IPOs, mergers, deals, and a look ahead to what's coming. Follow us on twitter to get the latest as it happens and contact to learn more about Boardroom Alpha's SPAC Intelligence service.
Quick Take
Despite all the attention on Gamestop, WallstreetBets, Melvin Capital, and Robinhood the SPAC market remained white hot in January. New SPACs filing S-1s approached the century mark and are poised to raise another ~$25 billion of SPAC gunpowder ready to fire, and SPAC IPO's priced at a similar pace. It's unclear how long this can last, especially if fears of a broader set of bubbles translates to persistent downward market pressure. However, given what is in the pipeline and already on the market, we'll be talking SPACs a lot throughout 2021.
Also notable is the increasing pressure we're hearing from SPAC teams/sponsors regarding how competitive it is to find deals. The "SPAC-Off" is a real thing and teams are having to prove they're the right SPAC to go with. This means that, more than ever, finding the right SPAC team — people who know SPACs, get "deal flow", know how to close, and can spot truly great companies — is more important than ever.
And, on the subject of teams/sponsors, we're starting to see more repeat offenders that are making a big bet on SPACs and building out a material track record. We take a look below at a few that are making the most noise in the market.
New SPAC S-1 Filings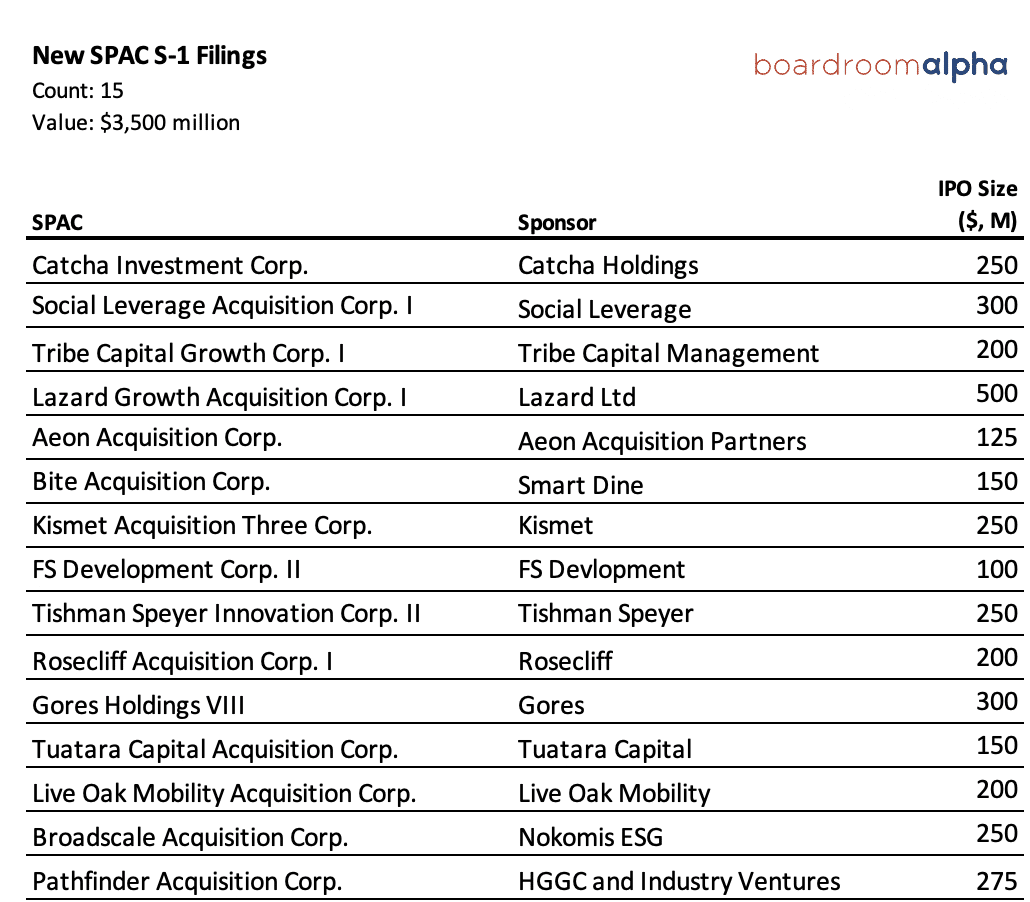 SPAC IPOs Priced This Week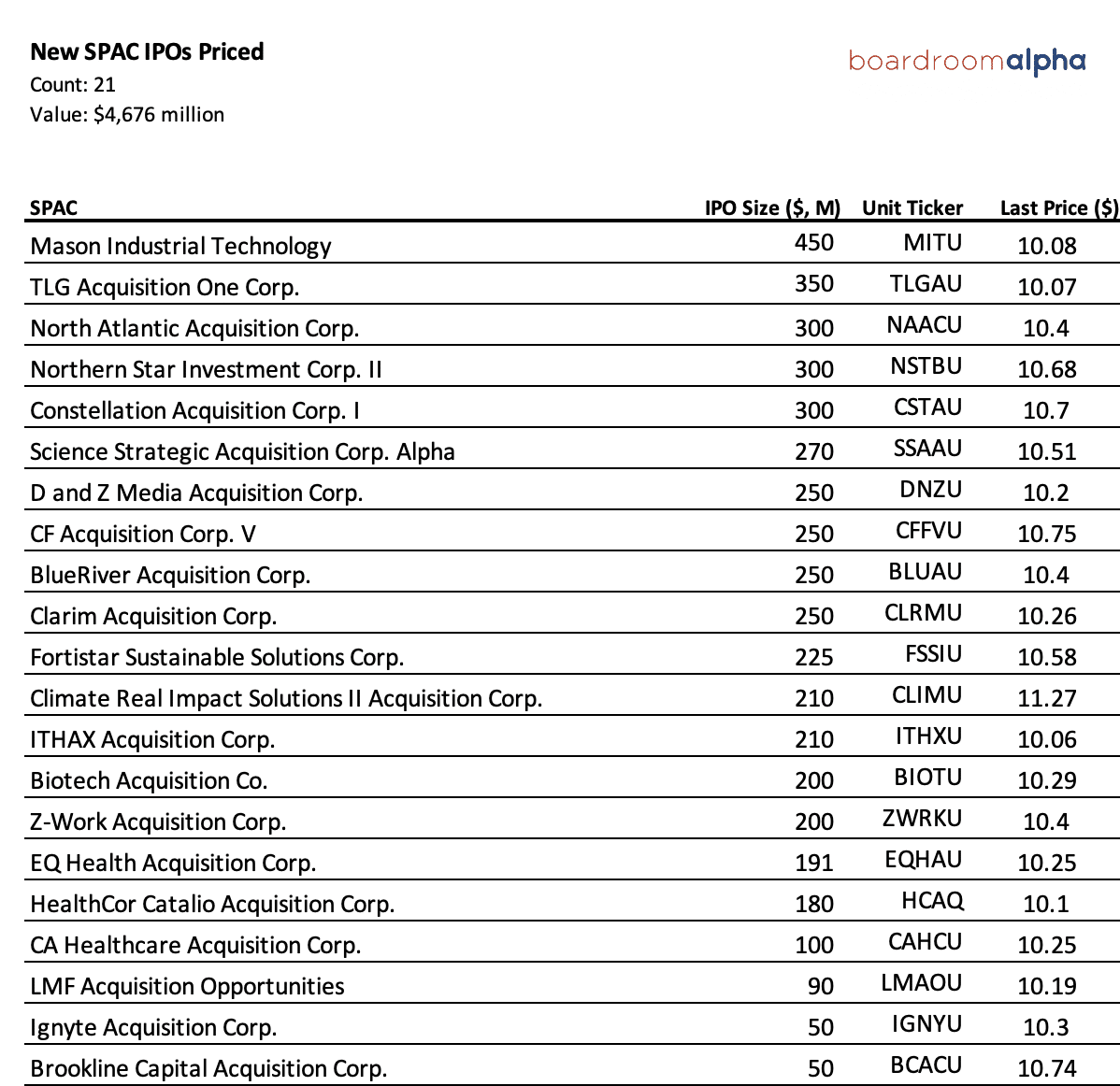 Repeat Offenders
Among this week's S-1s and IPOs included both Gores VIII and CF Acquisition V. As the market continues to issue at a record pace we're seeing more and more repeat issuers starting to build up a track record. Will they all be winners? Likely not – it will be interesting to see who can consistently generate the best performing deals:
Among the most active sponsor/team issuers in the market include:
Alec E Gores / Metropolous: 10 (!) total in their history going back to 2015, including 5 that are currently active
M. Klein / Churchill: up to 6 historically for the Churchill team.

Churchill II has announced a deal with Skillsoft while 4 others are either Pre-IPO or searching for a target

Chamath / Social Capital Hedesophia: up to IPOF (6th) for the much publicized SPAC team

IPOE announced the mega deal with SoFi earlier this month
IPOD and IPOF are on the lookout for their next blockbuster
this week Chamath participated in two PIPEs, the $250M Sunlight Financial PIPE and the $190M Latch PIPE

Cantor Fitzgerald / Howard Lutnick: just priced their 5th

CF II has announced a deal with View, Inc.
CF 3-4 are searching for deals
SPAC Merger Announcements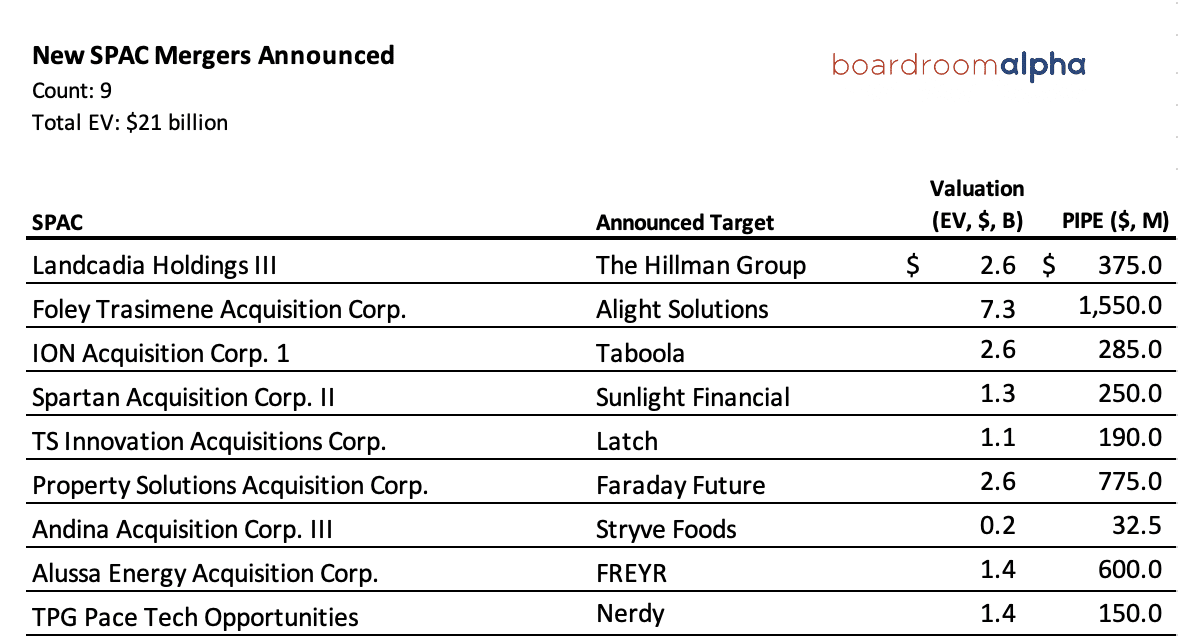 Next Week's Calendar
Merger Approval Votes
Deadline Extensions
Feb 4 9:00pm ET: AGBA voting to extend until November

no transaction has been announced. IPOed May-2019
shares are at $10.46
Unit / Warrant Splits