Every week we wrap the latest on new SPACs filed, IPOs, mergers, deals, and a look ahead to what's coming. Follow us on twitter to get the latest as it happens and contact to learn more about Boardroom Alpha's SPAC Intelligence service.
Quick Take
The issuance frenzy kept up this week as over 30 SPAC S-1s were filed targeting another $8B+ in capital. Not to mention a new SPAC aptly titled "Just Another Acquisition Corp". Is it a sign of a frothy market? Perhaps. Else the relatively small $60M SPAC, sponsored by middle-market PE exec Philip Wagenheim, at least succeeded in gaining some press… hard to stand out these days if you were raising just another SPAC.
The SPAC hype is not stopping, and by our count there are now over 140 SPACs who have prelim S-1s and at least 340 SPACs that are looking for targets.
Last week we noted how many are starting to ask questions around SPACs, but beyond the general, the most questions are probably around the next hot-SPAC merger, where prices are feeling a lot like the Reddit-rally phenomena of GME. Churchill Capital IV's rise to ~$60 has been meteoric and it hasn't even announced a merger yet. Although widely rumored to be merging with future Tesla competitor, Lucid Motors it is not yet certain. As Bloomberg's Chris Bryant writes, what if Lucid decides to aggressively negotiate more favorable deal terms? Or pursues a traditional IPO? The ones holding the bag… the speculators. CCIV's per share value would surely plummet if it were to not pursue a deal with Lucid Motors.
Though should a deal go through, it would be nice to get in on that $1B PIPE at $10 🙂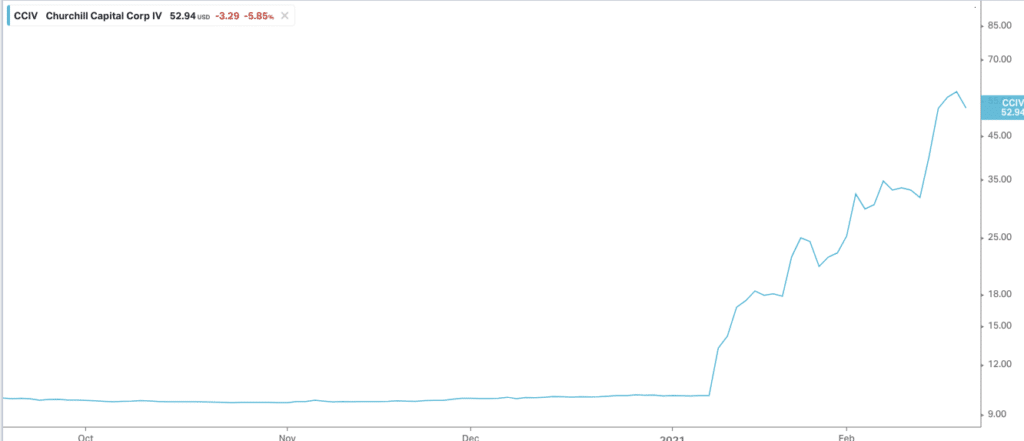 As for repeat offenders… Niccolo de Masi and Harry You are back with dMY IV, and we saw 3rd versions for both Software Acquisition and Supernova. Following in Khosla's lead of filing 3 concurrent SPACs, the multiple-a-day SPAC filings have become a thing: Warburg Pincus 1-A and 1-B, InterPrivate 2-4 were a few this week to say let's just cut to the chase. Now more than ever it will be critical to track sponsor performance.
On the merger front, we saw 8 new deals get announced this week for a combined total EV > $9B. The highlight was HighCape's proposed acquisition of of Quantum-Si. News of that deal have sent shares skyrocketing and now are hovering ~$20. Check out that and all of this week's new activity below:
New SPAC S-1 Filings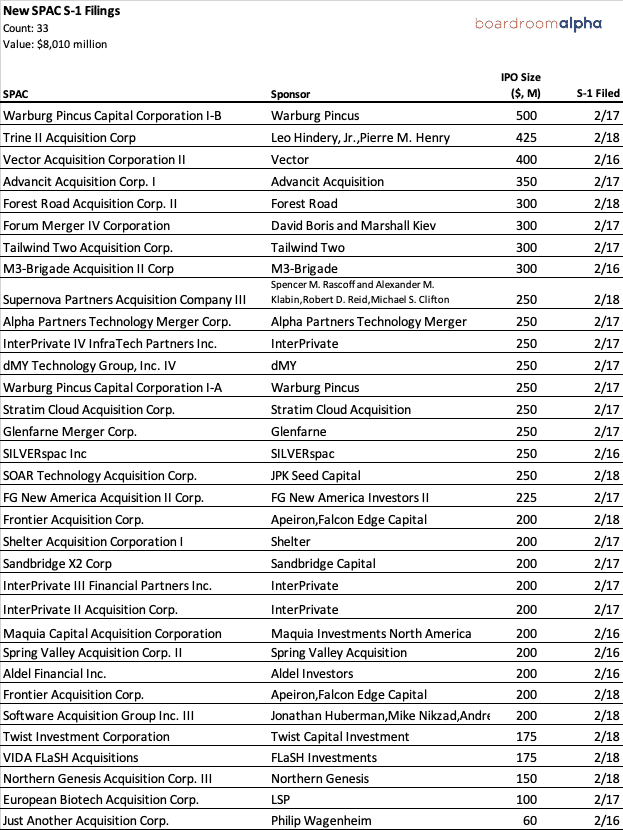 SPAC IPOs Priced This Week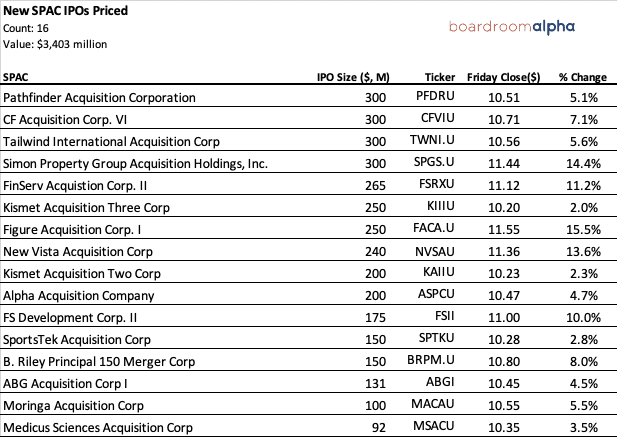 SPAC Merger Announcements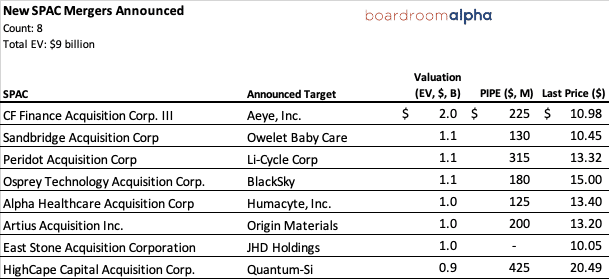 Next Week's Calendar
Merger Approval Votes
Feb 25: SBE, delayed again, to approve merger with ChargePoint
Unit Separation