Every week we wrap the latest on new SPACs filed, IPOs, mergers, deals, and a look ahead to what's coming. Follow us on twitter to get the latest as it happens and contact to learn more about Boardroom Alpha's SPAC Intelligence service.
Quick Take
Last week we said to get ready for a wild ride and February's SPAC-tacular pace continued this week with 26 new S-1s filed this week (+2 from last week!) that are looking for $6.7b in capital; 24 new IPOs priced for over almost $8b; and 12 new merger announcements.
Last week Alex Rodriguez (SLAM) joined the list of celebrity athletes and this week Colin Kaepernick joins the fray with the $250m Mission Advancement Corp that is "focused on the intersection of consumer and impact." Mr. Kaepernick has paired with The Najafi Companies who have an investment track record in consumer/athletics. We've talked before about how valuable it is for SPACs to have three components: (1) strong operators, (2) a strong investment platform with access to capital, deal flow, and proven deal evaluation abilities, and (3) an ability to promote. So, while this team doesn't have previous SPAC experience they do have a good foundation. The ability to promote is especially important in the SPAC space as the rush into the space continues from both traditional institutional investors and growing retail investors.
In the repeat offenders category, Churchill VI and VII, Apollo II, Spartan III, ScION Tech II, Pivotal II, and Tishman II all priced. There were also a number of repeat SPAC teams announcing mergers with: Tortoise II joined Tortoise I by going sustainable by choosing to bring Volta's electric vehicle charging network to the public markets; Arya III staying on target by announcing their merger with Nautilus Biotechnology; Gores VI announcing Matterport; and the Nebula team picking Rover to move towards that team's second deSPAC.
We also took note that this week there is a notable rise in those warning that SPACs may not just be in a bubble, but have additional flaws as well. For example, Bloomberg's editorial team on Thursday published a piece titled Investors in SPACs Need to Know the Real Deal that discusses the potential shortcomings of SPACs in terms of value to investors based both on structure and limited regulation. Right now, it seems like most SPAC investors are winning, but at some point that won't be the case and it will be worth watching both how regulators approach SPACs and how the SPAC sponsors and banks may try to get ahead of that by changing structures and approaches.
New SPAC S-1 Filings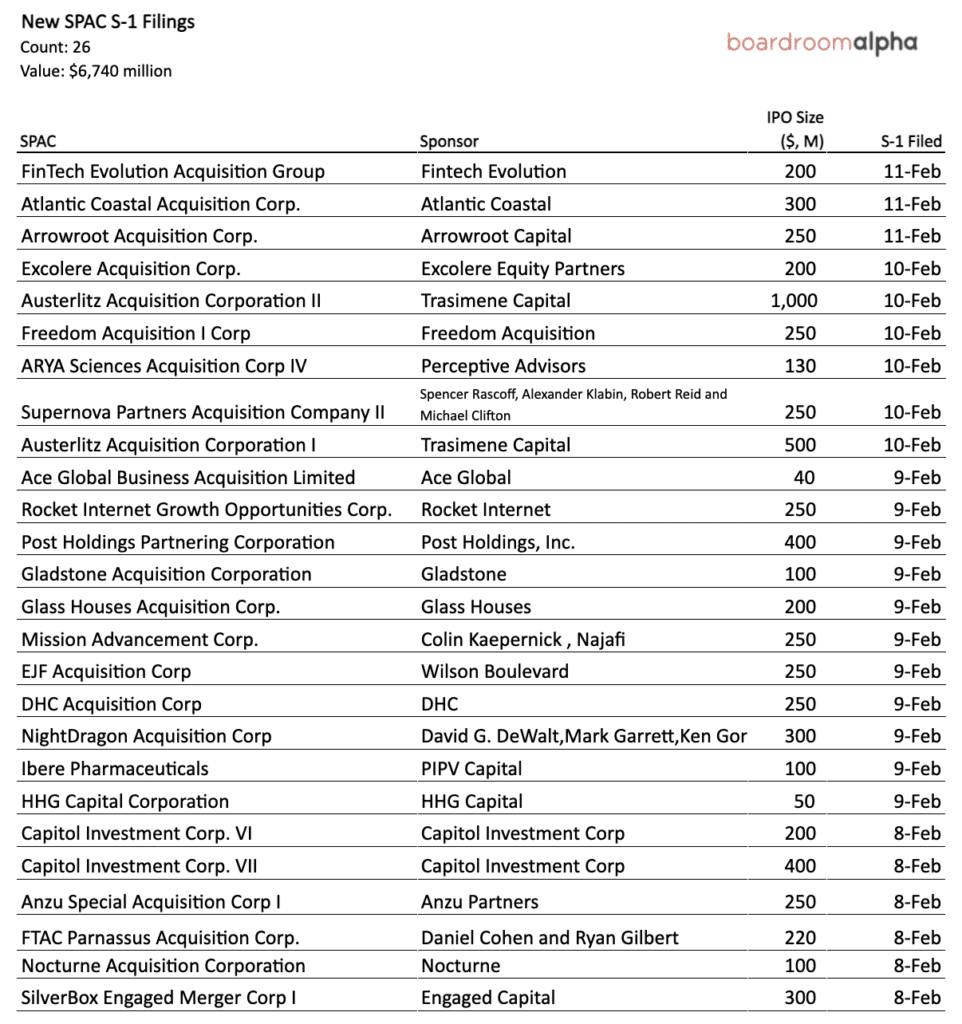 SPAC IPOs Priced This Week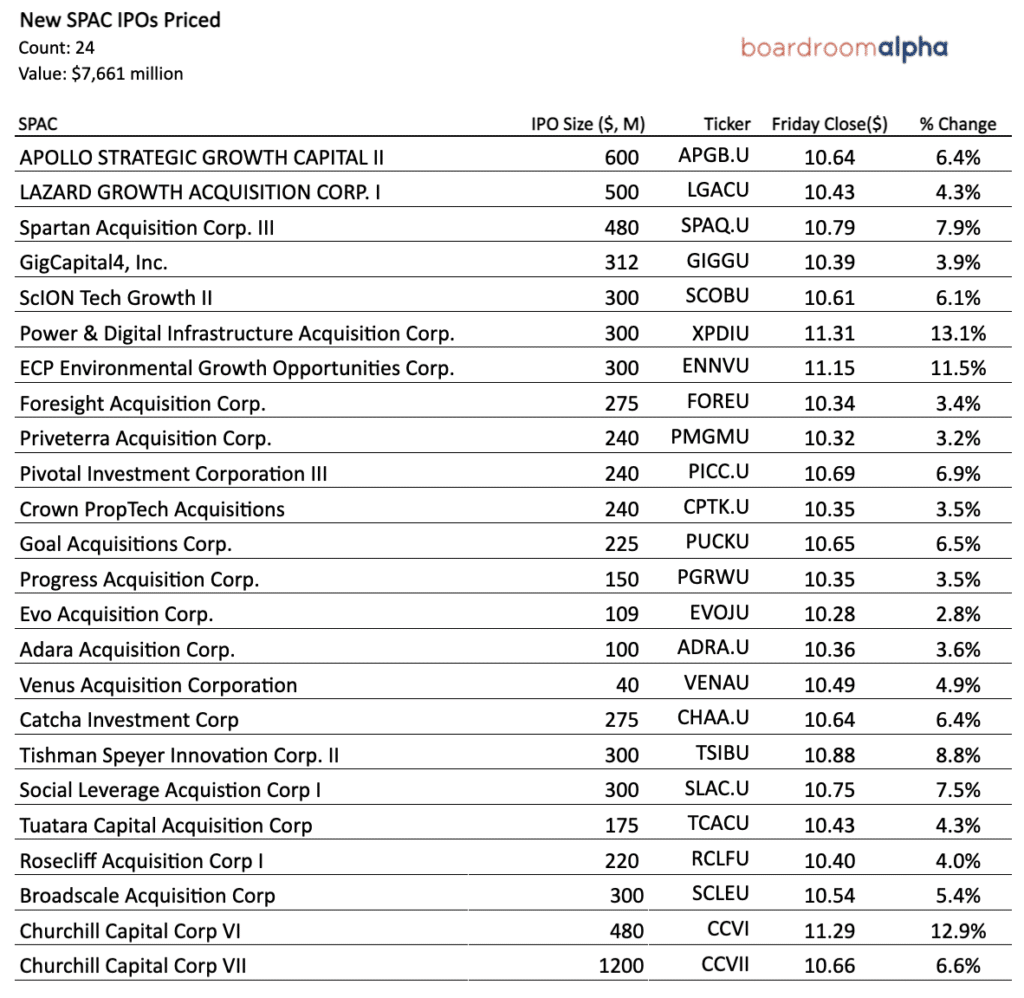 SPAC Merger Announcements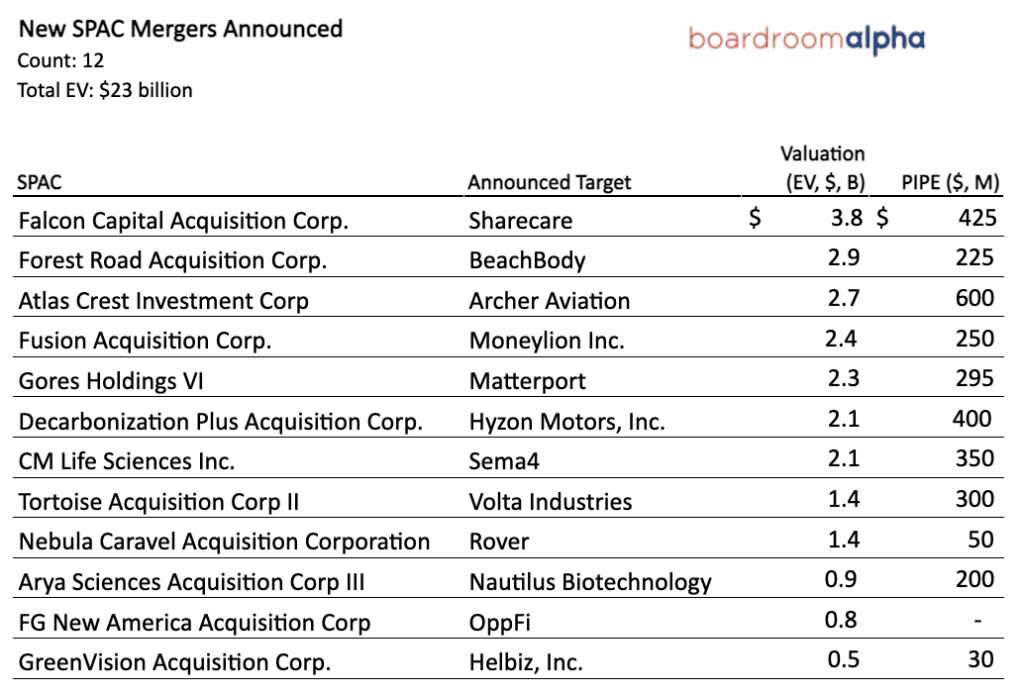 Next Week's Calendar
Merger Approval Votes
Feb 17: CRSA meeting to extend deadline
Feb 18: NBAC to approve merger w/ Nuvve