Roblox is one of the hottest names in gaming, with massive growth that was aided by the prevalence of stay-at-home during the pandemic. Investors are eagerly awaiting their IPO after having filed their preliminary S-1 last month.
An online gaming platform, Roblox creates a 3D world for millions of players to interact with and take part in. Individuals can create and monetize their own games on the platform, allowing Roblox to outsource content creation and ensure players always find something new to enjoy. It's highly popular with the younger tween generation.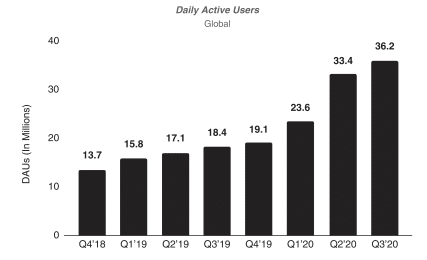 The Board – Andrea Wong added as Sole Female
At just 5 members, Roblox board is setup to be a small one. 4 of the directors have been with the company for awhile, and Andrea Wong was added in August 2020. With Goldman Sachs Lead Left on the deal, not surprising that she was added in the run up to their being a public company. Goldman has pledged not to underwrite any IPO without at least one diverse board member this year.
Roblox Directors:

David Baszucki is the founder and CEO of Roblox. He has an extensive background in engineering and software.
Gregory Baszucki is the brother of David. He's a prominent angel investor with experience as a director at multiple private companies.
Christopher Carvalho has been an advisor and director to many private gaming companies, in addition to previous leadership roles at companies like Lucasfilms and Kabam Games. From 2017 to 2019, Mr. Carvalho was a member of the board of directors of G5 Entertainment AB, a publicly traded Swedish gaming company.
Anthony Lee is Vice President of Altos Ventures Management, a venture capital firm and Roblox's largest shareholder.
Andrea Wong (C-), the latest appointment in August 2020, has held executive positions at major media companies such as Sony, Lifetime and ABC. In recent years, she has become an active director serving on the boards of several public companies and SPACs. This will be her 4th public corporate and 6th overall inclusive of the two SPACs – that has the potential to raise so-called overboarding issues from investors.
She's currently on the board of both Oaktree Spacs (Oaktree Acquisition Partners 1 and 2)
Also on the boards of Hudson Pacific Properties, Liberty Media, and Qurate Retail
Key Takeaways
Small, tight-knight group of directors who have been together for a while, and significant industry experience
Public board experience is lacking, as only Andrea Wong having extensive experience
Diversity could be improved upon with only one female director and a lack of racial/ethnic diversity
The board skews younger, with not a single member over 60. On average, future electronic gaming & multimedia peer companies have 22% of their directors over age 65. Gender diversity also trails its peer average of 26%.
Note: Letter grades represent proprietary Boardroom Alpha ratings that assess the individual's track record as a director or officer across their career.