Shake Shack on Friday said it had received a $10 million government-backed Paycheck Protection Program loan even as the seller of burgers and shakes raised $150 million in an equity offering.
The Paycheck Protection program, or PPP, offered loans from the federal-government as relief to small businesses hit by COVID-19 shutdowns.
Many PPP loans, however, went to larger companies (we're tracking public companies here) that may have had funding alternatives, including stock offerings and cash on balance sheets, that aren't available to mom-and-pop operations. That raises questions of fairness and effectiveness because the PPP funds, at least for now, have run out. The loans were so popular that businesses claimed $349 billion in initial funds in less than two weeks. The program is no longer taking applications as Congress weights whether to fund it further.
In addition to Shake Shack, at least 65 other publicly traded companies received PPP loans totalling $288 million, with a median loan of $4.6 million, according to the Boardroom Alpha PPP Tracker. They include:
Ruth's Hospitality Group, parent of Ruth's Chris Steakhouse, received two loans totalling $20 million. The company was able to exceed the $10 million cap on the loans by applying for two separate loans for subsidiary companies.
Casual-dining company J. Alexander's Holdings Inc. also exceeded the $10 million cap by applying for a $10 million loan for one subsidiary and a $5 million loan for another.
Dave and Buster's Entertainment Inc. said it applied for a $10 million PPP loan. On April 14, it also announced plans for a $75 million at-the-market stock offering.
Restaurant companies have said they would be among the hardest hit by COVID-19 closures, but publicly traded companies in many other industries also applied:
Zagg Inc., a seller of mobile phone accessories, said it had secured a $9.4 million PPP loan and announced plans to shore up cash, including layoffs and furloughs of 20% of its U.S. staff, and pay cuts of 15% for its chief executive officer and 10% for other executives.
Hallador Energy Co., a producer of coal, received a $10 million PPP loan.
Helius Medical Technologies Inc., a neurotech company, obtained a PPP loan of $323,000.
Consumer cyclicals, a category that includes restaurants, entertainment, construction and retail, received about $106 million in PPP loans, 36.7% of the total, and accounted for the largest proportion of loans to publicly traded companies, according to our data.
For a complete list of publicly traded companies that received PPP loans, click here.
The PPP loans come with generous terms. They charge just 1% interest. No repayment is required for the first six months. The loans will be forgiven if company recipients retain employees on the payroll for at least eight weeks.
PPP loans were supposed to go only to firms with fewer than 500 employees, but the legislation exempted large restaurant and hotel companies. Larger companies may have found it easier to get the loans because they are more likely to be valuable clients to the banks that are making the loans and also because banks had a financial incentive to make larger loans, according to the U.S. Treasury Department. The program operated on a first-come, first-serve basis.
Lenders receive processing fees of:
Five percent for loans of not more than $350,000
Three percent for loans of more than $350,000 and less than $2,000,000
One percent for loans of at least $2,000,000
As a result, the maximum fee on a $350,000 loan would be $17,500 compared to just under $60,000 for a loan of up to $2 million and $100,000 for a maximum loan of size of $10 million.
Concerns about bailouts for large companies, including unfair allocations of PPP loans, have fueled criticism and calls for reforms.
In a blog post headlined, "Capitalists or Cronyists," Scott Galloway, a marketing professor at New York University, said current bailouts protected the wealthy and encouraged bad corporate decisions.
"CNBC/Trump want to protect current equity holders at the expense of future generations with rescue packages that explode the deficit. They also want to protect airlines, who spent $45 billion on buybacks and now want a $54 billion bailout, disincentivizing other firms (e.g., Berkshire Hathaway) that have built huge cash piles foregoing current returns," he wrote. "The rescue package should protect people, not businesses."
Restricting future stock buybacks for companies that receive COVID-19 aid is among the options being discussed. Delta Air Lines Inc. recently agreed to restrict stock repurchases and dividends until 2021 in exchange for $5.4 billion in government aid.
Many recipients of PPP loans have completed major buybacks recently. Ruth's Hospitality, for example, repurchased $68 million of shares from 2017 through the end of last year. But, they aren't alone, with many of the PPP loan recipients having bought back many multiples of their loan amounts over the past 3 years. This will of course raise significant questions governance questions for these companies, specifically whether the Boards of Directors and CEOs are more focused on short-term stock prices versus long-term sustainable businesses.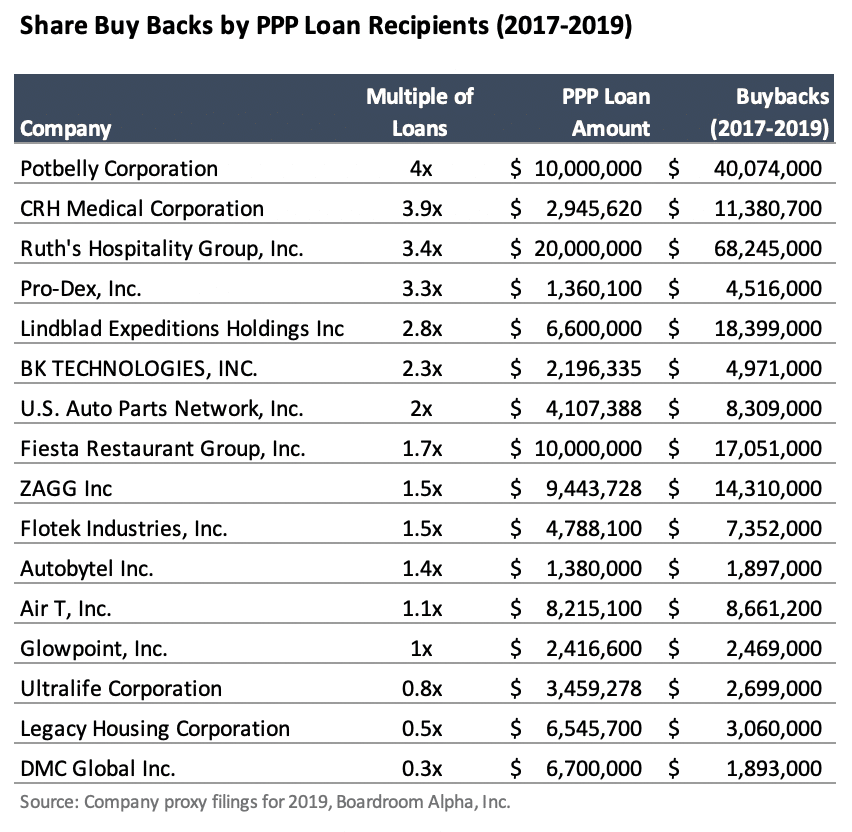 Entrepreneur and Shark Tank investor Mark Cuban is among those calling for a new round of funding with rules aimed at improving the odds for small businesses. On Twitter, he asked that a new round of loans be allocated via lottery:
Duncan and Rita MacDonald-Korth, small business owners and founders of COVID Loan Tracker, published a petition on Change.org calling for several changes. They argue for Congress to increase funding to $1 trillion and say PPP loans should be restricted to companies with fewer than 250 employees, with 50% of new loans allocated for firms with 50 or fewer workers.
Many small businesses have said they were still waiting to hear whether they would receive a PPP loan and were concerned that even if they did, the money might not stave off significant downturns.
Dorothy Heneghan, co-founder of Pat-a-Cake, a day care center and preschool in Greenwich, Conn., said she had not yet gotten an answer on whether her PPP loan application was approved. She hoped to use it to cover costs of about $50,000 per month.
"I think the small guy should be considered," she said. She is already worried because she believes the education of children from the ages of zero to 6 is crucial to their lifelong success. And she fears that if Covid-19 keeps businesses closed much longer, her business may face a long recovery.
"It would really be a shame," she said, "because I have a very dedicated staff and they all do their jobs very well, and I already feel that there will be a portion of the business that will drop off."
Shake Shack said it had laid off or furloughed 1,000 employees on Friday, the same day that it disclosed plans for its stock offering. Company executives are receiving reduced pay, the company said in a Securities and Exchange Commission filing. The company said it continues to pay all Shake Shack general managers in full and is covering 100% of medical benefits through July 1 for furloughed shack managers and home office employees.
Chief Executive Randy Garutti received $3.8 million in 2018 salary, including a one-time bonus of $1.3 million. Excluding that bonus, Garutti's pay could support the average income of 77 Shake Shack workers, according to the company's most recent proxy statement. Company founder Danny Meyer has previously sold over $34 million in Shake Shack stock, according to regulatory filings. His net worth is reportedly in the hundreds of millions given his equity stake in Shake Shack and serving as the Founder and CEO of Union Square Hospitality Group.
In addition to the headline of CEO and other executive pay, board pay will, and should, come under scrutiny as well.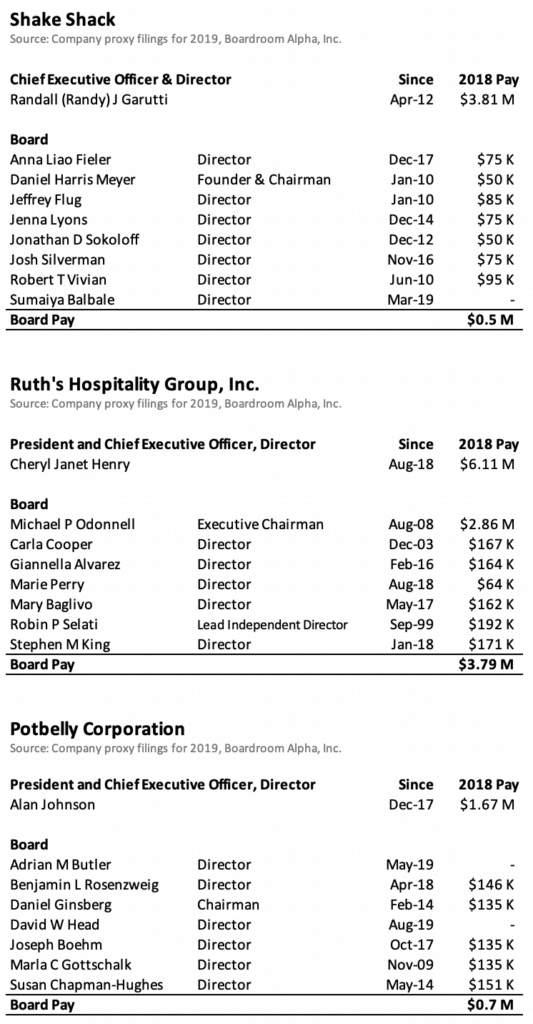 Directors and officers at Shake Shack have also primarily been sellers of its stock over the past year. Just in January and February of this year alone, one of their long-time directors, Jonathan Sokoloff sold over $72M in equity.

Shake Shack said it had $112 million in cash on hand and was burning through it at a rate of $1.3 to $1.5 million per week. Same-store sales fell 12.8% in the first quarter ended March 25, 2020 compared to the same period a year ago.
COVID-19 also spurred Shake Shack to draw down its $50 million credit facility from Wells Fargo to increase liquidity and enhance financial flexibility.
Over the weekend, the disbelief was palpable on Twitter. Many small business owners took to Twitter to express their disbelief and anger that large public companies like Shake Shack and Ruth's received any PPP money and others began to call for a boycotts.
Shake Shack on Friday initially said it planned to raise $75 million in an at-the-market stock offering, but later that day put out an additional media release saying it had raised $150 million – $10 million from the at-the-market offering and $140 million in an underwritten offering, both of Class A shares. The company said it would use the proceeds to strengthen its balance sheet.
With job losses nearing levels not seen since the Great Depression, limited resources should go to those who need it most. The first round of PPP stimulus provided incentives that prioritized big employers over smaller ones and rewarded companies of significant financial means. Leaders working on Round Two of the stimulus should revise the rules to put small businesses in the winner's circle.
Stay on top of all the impacts and activity: