Earlier this week, iRhythm Technologies (IRTC) announced Kevin King (B-) will retire as CEO, effective January 12th, 2021. Replacing him will be Medtronic exec Mike Coyle.
King's Performance
iRhythm saw significant growth during King's 8 year tenure. When King first took the reigns in 2012, private fundraising implied a company valuation of $68.2mm; today, the company is worth over $6.1b. For 2014, revenue was $21.7mm, compared to an estimated $263mm for 2020. Since overseeing iRhythms 2016 IPO, King has posted an annualized TSR of 67%. Shares have especially performed well in 2020, yet the company remains unprofitable as they aim for rocket growth.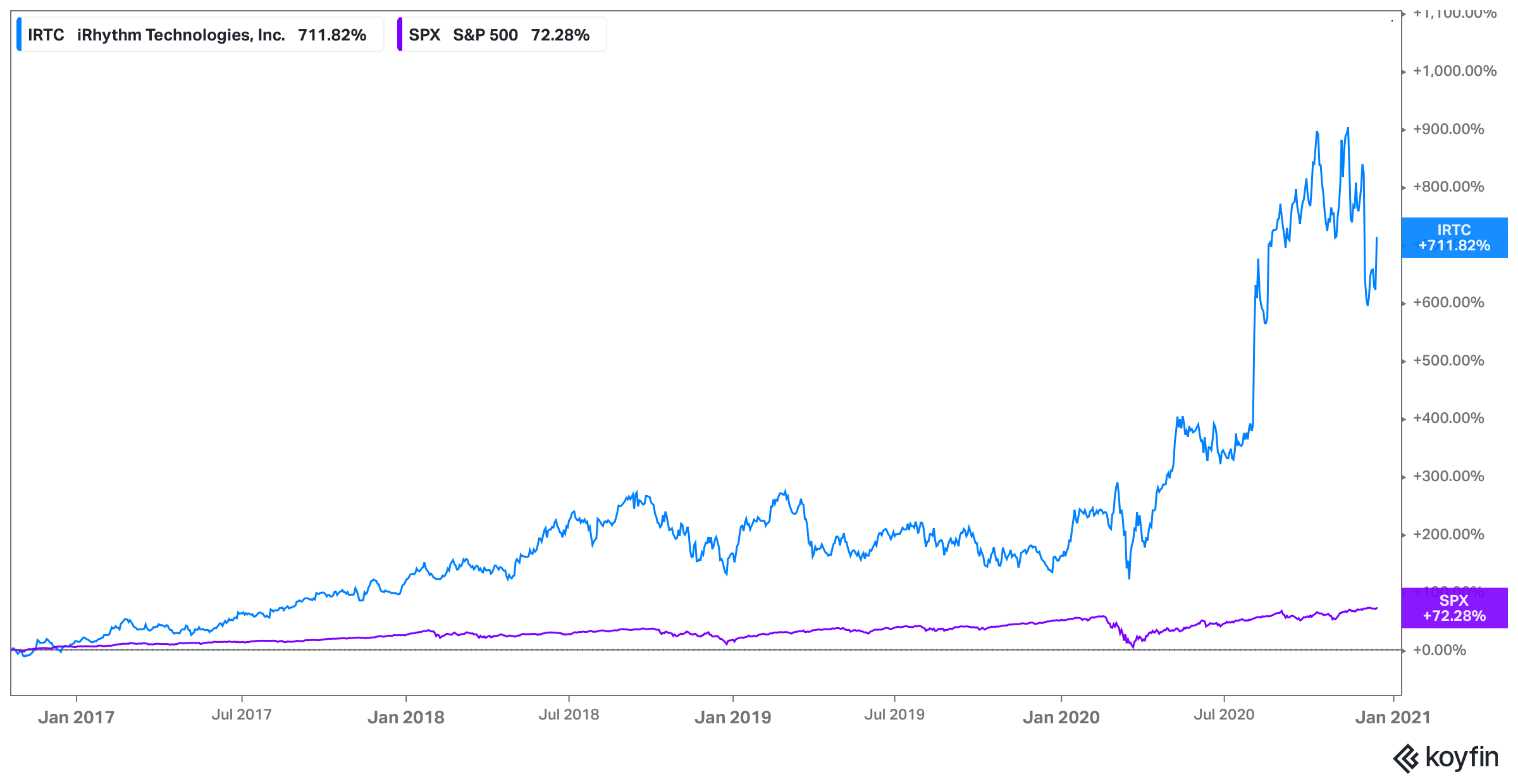 King's compensation record isn't quite as cut-and-dried, with Relative Pay/TSR Ratios inline with peer averages but a Relative Pay-to-Financials ratios suggesting he was overpaid. King's total compensation for 2019 was $4.77mm.
The Replacement
Replacing King is an outsider, Michael Coyle. Coyle was an executive officer of Medtronic PLC, leading their cardiovascular group.
iRhythm Chairman Abhijit Talwalkar (B+) had this to say: "Mike is a proven leader in the healthcare industry with notable experience building and scaling multi-billion dollar businesses globally, particularly in cardiology. We look forward to his expertise and leadership as iRhythm enters the next phase of growth and expansion".
King himself said: "While the timing of any CEO transition is never easy, succession planning has been a thorough and thoughtful process. Our business outlook remains very strong".
Coyle will join iRhythm's board when he becomes CEO, joining King who will stay on in retirement.

Take Away
iRhythm's cardiovascular focused medical device business took off under King, and shareholders will now be hoping Coyle can build upon his strong record of growth.
Note: Letter grades represent proprietary Boardroom Alpha ratings that assess the individual's track record as a director or officer across their career.
Recent People Moves
Minicucci to Takeover as CEO at Alaska Air Group
PulteGroup adds J. Phillip Holloman to Group of High-Performers