Coty (COTY), the beauty and cosmetics company, has had significant insider buying this week that could suggest optimism from the inside about a further recovery in the company's shares following a precipitous decline this year.
Earlier this month, it was announced former CEO and current executive chairman Peter Harf (D) would be buying $150mm worth of shares from investment firm KKR & Co. Regarding the transaction, Harf said: "I believe in Coty and I believe in Sue, and I am investing my own money into this company". Harf has expressed confidence in Coty through more than his personal funds, via his role as Managing Partner of JAB Holdings, a German conglomerate which is Coty's largest shareholder.
The confidence expressed by insiders extends beyond Harf. Johannes Huth, a KKR partner and 2020 appointee to Coty's board, bought $6.2mm worth of shares on November 20th. Director Robert Singer (C) also has bought around $0.2mm worth of shares over the last month.
The buying stands in contrast to Coty's peers, who have stayed on the sidelines.

Revolving Door of CEOS
Sue Nabi, lifelong entrepreneur founder and CEO of the new-age luxury skincare line Orveda, took over as CEO in September. She's been the most recent of the several CEOs Coty has had since going public in 2013:
On the positive side, Coty's board has well above average gender diversity, with near gender equality on their board (42% female). However there is a dearth of racially diverse directors.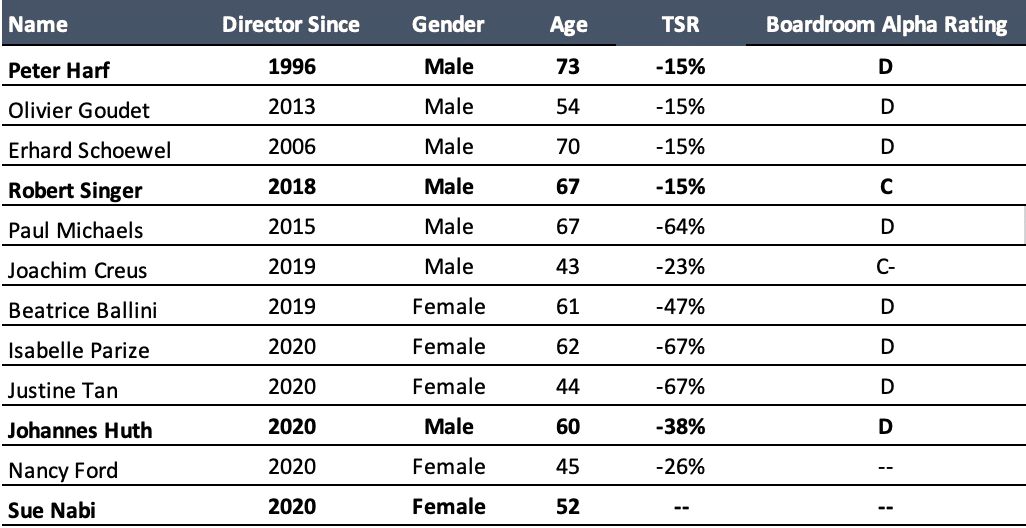 Your Take Away
Coty stock has underperformed for years now, with COVID-19 dragging shares down even further in 2020. Prices have started to rebound in recent months, and if insider confidence is any indication, the positive performance won't be a flash in the pan.
Note: Letter grades represent proprietary Boardroom Alpha ratings that assess the individual's track record as a director or officer across their career.