On Friday AT&T Inc. held their annual shareholder meeting (virtual, of course) and announced a leadership transition. Longtime Chairman & CEO Randall Stephenson (3% annual AT&T TSR over tenure vs. 6% for the S&P 500) will be stepping down in July as John Stankey, President & COO, takes over. Stephenson will stay to oversee the Board through the end of the year to help smooth the transition. An Independent Chairman will be appointed upon his retirement.
The leadership change comes at a critical juncture for the Dallas based communications conglomerate. Pay TV customers are "cutting the cord" faster than ever, mobile connectivity has never been more important, and the company's foray into the streaming wars is upon us as its HBO Max service is set to launch in May.

An AT&T "Lifer"
New CEO John Stankey is something of an AT&T lifer, having joined the organization in 1985. He has experience all over the telecom giant including stints in M&A, broadband, and corporate strategy.
Most recently, he was President and COO of AT&T and the CEO of WarnerMedia. As CEO of WarnerMedia he looked over the prized asset HBO, following long-time chief Richard Plepler's resignation (AT&T's purchase of Time Warner closed in 2018).
Last year, media analysts took the news of Stankey's accession at the helm of Warner, and Pleplers resignation, as poor news for the legendary HBO, and in turn, AT&T. WarnerMedia accounted for ~18% of AT&T's revenues in 2019.
Outgoing CEO Randall Stephenson has held the top post for nearly 13 years. Also a lifer, Mr. Stephenson joined Southwestern Bell Telephone in 1982 in Oklahoma, rose through the ranks, and was ultimately appointed CEO in June 2007.
Supportive, for Now
Activist investors Elliott Management had previously expressed skepticism over several of AT&T's decisions, namely in buying DirecTV and Time Warner, according to reports. Elliott amassed a ~$3.2bn stake in AT&T back in the fall of 2019, representing a ~1% stake in the company. Elliott is now seemingly comfortable with AT&T's choice of Stankey as Elliott Partner Jesse Cohn said:
Stephenson Pay Topped Peers
Randall Stephenson has been paid nearly $90M over the past 3 years as CEO of AT&T Inc., and north of $330M during his tenure, according to our data.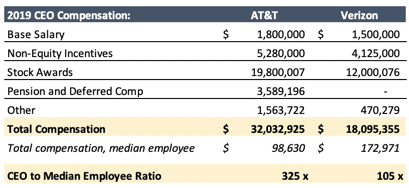 For comparison, Hans Vestberg, CEO of Verizon Communications, took home $18M in 2019, and just over $50M the last three years. Mr. Vestberg's CEO median pay ratio was lower than that of Mr. Stephenson at 105x vs. 325x. However, VZ has ~135k employees to AT&Ts ~250k.
CEO Incentives Going Forward
Mr. Stankey has been compensated quite well in his own right, taking home ~$49M over the past three years. We have yet to see if there are any major changes to Stankey's agreement as CEO. According to AT&T's most recent proxy, the CEO's short-term priorities were to boost EPS and reduce leverage. AT&T's debt pile is huge, standing at ~$150B following large sums raised in purchasing both DirecTV and Time Warner. AT&T repurchased ~$2.4B in common stock last year.
On a long-term basis, compensation targets are based on ROIC and TSR goals.
Stankey Inherits Relatively Diverse, Stable Board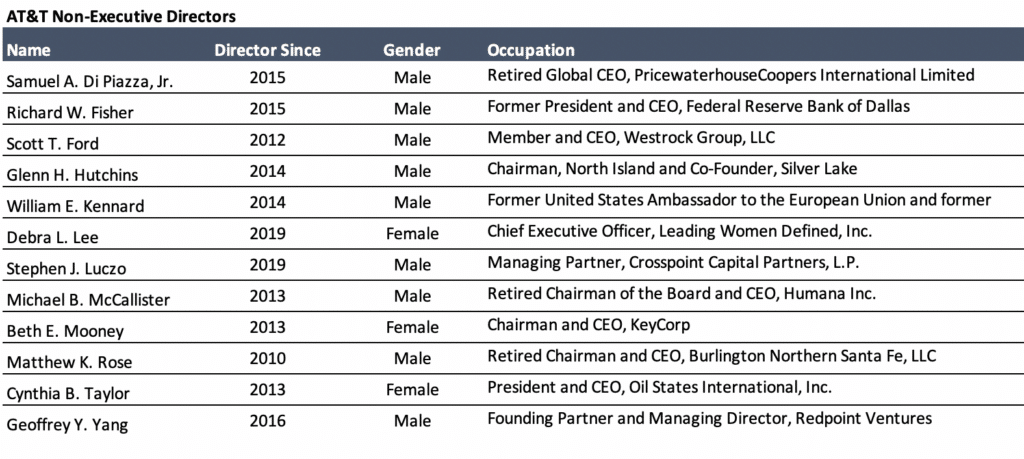 Mr. Stankey will take over a company whose board (aside from Mr. Stephenson) is comprised of all independent directors – including Lead Director Matthew Rose. Stephen Luczo, Chairman and former CEO of Seagate, is the company's newest director, having been elected in November 2019 following an agreement between Elliott and AT&T. AT&T will transition the Chairman role to an independent Director upon Stephenson's retirement from the Board.
The board is a large one by most standards, with 14 directors (pro forma for when Mr. Stankey joins) – though its diversity (as measured by age, gender and tenure) is relatively strong. Only 14% of the board has been in place longer than 9 years, 21% are female, and just 21% are over the age of 65.

The company promotes the board's wide range of skills, attributes and experiences that help provide the necessary oversight of the company. An interesting point, however, is that just 5 directors were noted to have "Media & Entertainment" qualification.
The biggest question for John Stankey, as he assumes control, is how will he be able to navigate AT&T through these unchartered territories. Are they too big and broad to thrive? Can he effectively lead such a broad-reaching company with multiple businesses effectively?