Icahn makes a much stronger case on animal welfare than he does with Board nominees
Proxy battle between Carl Icahn and Kroger: KR discloses board nominees. Supermarket chain The Kroger Co. (KR) disclosed the company's proposed board nominees in a 14-A filing with the SEC released April 19th. As background, in March, activist investor Carl Icahn announced his intent to nominate two director candidates – Alexis C. Fox and Margarita Paláu-Hernández for election at the Company's upcoming 2022 annual shareholder meeting. Icahn has previously voiced his concerns regarding animal welfare and the use of gestation crates in pork production. For its part, Kroger has stated it expects that all of its suppliers will have stopped using gestation crates by 2025.
Icahn also waging animal welfare campaign at McDonald's. Icahn has another active animal welfare campaign at McDonald's (MCD), arguing the fast food retailer failed to deliver on its own promise made a decade ago to remove the so-called gestation crates for pigs from its own supply chain. Icahn has nominated two new board members for election: Leslie Samuelrich, a sustainability-focused investor and president of Green Century Capital Management, and Maisie Ganzler, Chief Strategy and Brand officer at restaurant management company Bon Appétit. McDonald's disputes Icahn's assertions and says it has been a leader in moving the industry away from the practice.
Icahn nominee Margarita Paláu-Hernandez has delivered -13% shareholder return over her collective director tenures. Paláu-Hernandez performance ratings are underwhelming. Notably, during her 6.4 year Director tenure across 6 companies — Apartment Income REIT Corp. (AIRC), Xerox (XRX), Occidental Petroleum (OXY), Conduent (CNDT), Herbalife (HLF) and ALJ Regional Holdings (ALJJ)— she has only delivered positive shareholder returns once. OXY was the only company which outperformed during her tenure which fortuitously began in 2020– well-timed, at the energy sector's bottom. Paláu-Hernandez also doesn't have a track record of equity ownership at her companies. Her only insider purchase was $102,960 of Xerox stock in October 2021 — the first in four years. We'd like to see greater strategic alignment between board members and the companies they serve. Another potential concern: Paláu-Hernandez would face overboarding risk if nominated at Kroger, given she's already serving at four different companies in addition to running her own business, Hernandez Ventures– a privately held company involved in Spanish media and real estate. Two of the companies she's involved with — Conduent and Xerox– are also underperformers in need of some operational and strategic overhaul as well as capital allocation improvement. Conduent is currently exploring strategic alternatives for its transportation business in an effort to streamline operations. CNDT stock has declined 22% over the last 12 months.
Icahn nominee: Margarita Paláu-Hernandez


Board track record is underwhelming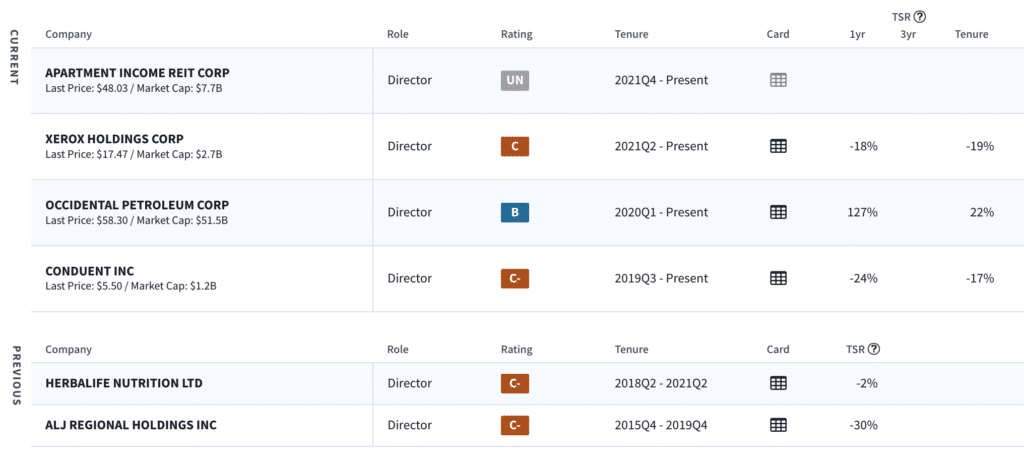 Paláu-Hernandez: Not much buying activity


Icahn nominee Alexis C. Fox lacks public company expertise. Alexis C. Fox is co-founder of privately-held Lighter, a personalized meal planning and tracking technology provider, where she served as CEO from November 2014 through May 2020. From 2012 to 2015, Fox was an Adjunct Professor of Leadership at Emerson College. From 2010 to January 2015, Ms. Fox was the State Director of Massachusetts for The Humane Society of the United States. She has served on the Board of Directors of Mercy for Animals since September 2018, where she sits on the compensation committee and is the Chair of the audit committee. Ms. Fox is also on the Board of Directors of Balanced.org since February 2017. While we appreciate Fox's animal welfare focus, its fair to point out she lacks any public company operational expertise.
Addressing the wage gap. In addition to animal welfare policies, Icahn has criticized Kroger's executive compensation relative to the median employee wage: "The wage gap between the CEO and median worker at Kroger is unconscionable," Icahn wrote in his March letter to the company. Looking at Icahn's assertions more closely, CEO Rodney McMullen was paid $22.4 in 2020. While executive compensation was in-line relative to the peer median, we note McMullen was overpaid relative to the the company's TSR ratio. The same is true of compensation for CFO Gary Millerchip. Notably, 89% of shareholders voted in favor at the company's Say-on-Pay vote, lending some concern going forward.
Kroger executive compensation: Some concern


Kroger nominees: Same slate. Despite Icahn's agitation, Kroger's board nominees are unchanged from the company's current structure. The board spans the retail, IT services, and management consulting sectors, with notable names from Dell (DELL), MGA Entertainment, and Macy's (M), among others. Diversity & inclusion metrics look good also with a good male/female and tenure mix.
Kroger board nominees: Same as it was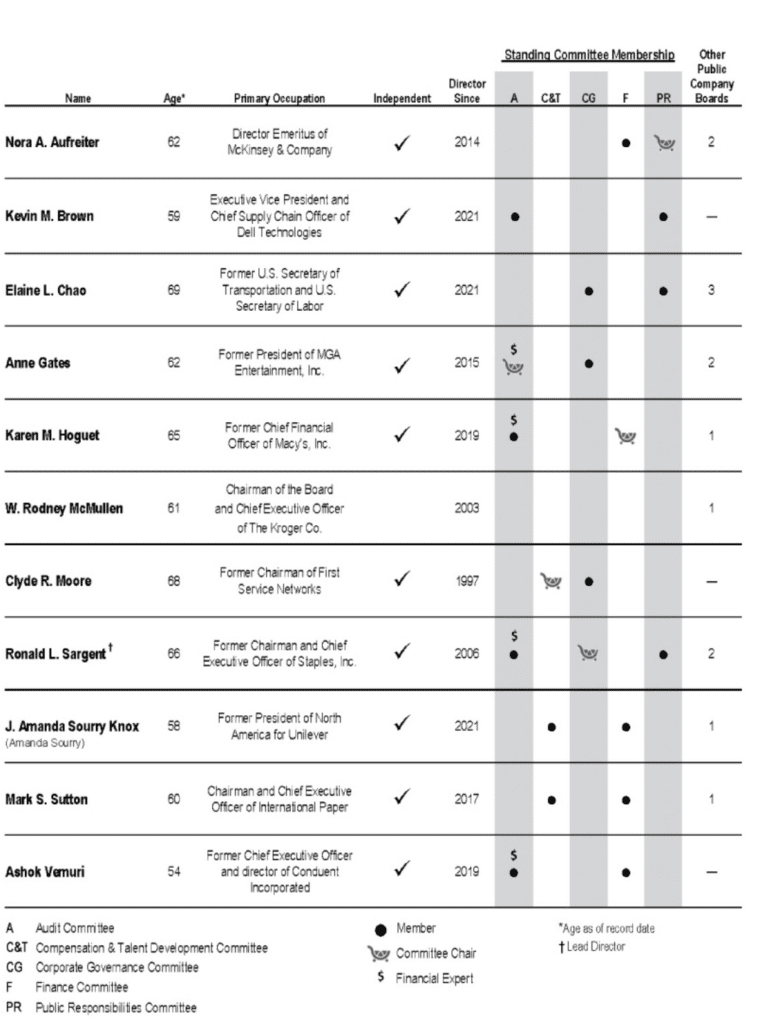 Kroger existing board snapshot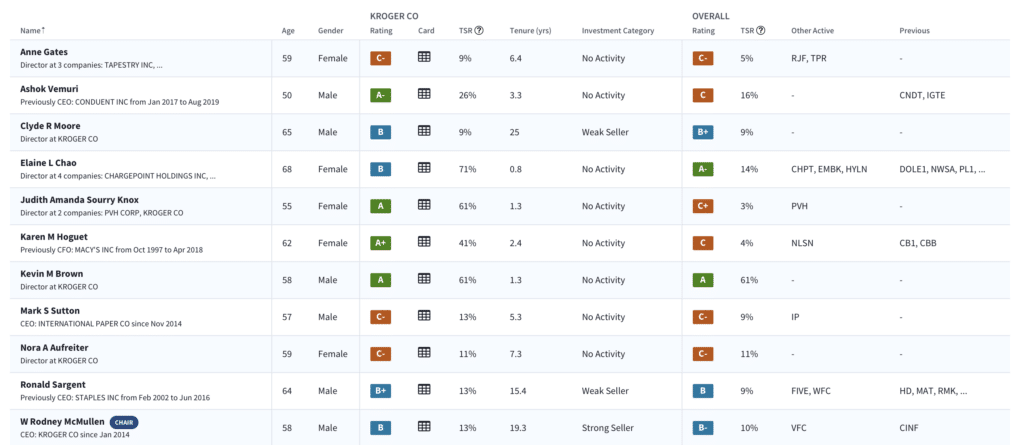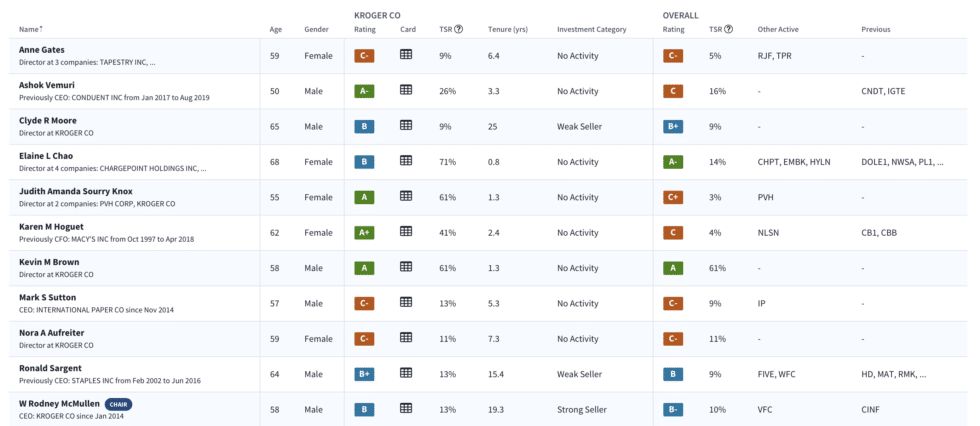 Kroger: Diversity & Inclusion snapshot


Insider trading: Selling has been higher than normal over the last 6-12 months. Looking the the existing board trading activity more closely, insider selling has been higher than sector peers. Insiders sold $45.6M worth of stock in the past six months– mostly on the heels of the company's strong Q1 results. No board member has been a significant buyer of stock.

Kroger inside buy/sell activity: We'd like to see some buying action


Bottom line on Kroger: Current management has delivered. While we appreciate Icahn's ESG perspective on executive compensation and animal welfare, the bottom line from a governance perspective is that the Kroger management team has indeed delivered. KR shares have outperformed the S&P 500 over the past 3 years. Revenues, EBITA and FCF have outperformed peers over this period. "Animals are one of the things I feel really emotional about," Icahn told the WSJ back in February. While his heart may be in the right place, we think Icahn may have difficulty gaining traction with this campaign.


BA Podcast: Innoviz (INVZ) CEO Omer Keilaf on LiDAR, Trust, and Commercial Production
Yesterday, LiDAR maker Innoviz (INVZ) announced a six-figure contract win with an undisclosed vehicle manufacture across its multiple brands. Good news for the EV and related technology ecosystem has been harder to find, with even bellwether Tesla (TSLA) stock down 26% YTD. We hope to hear more about this relationship during Innoviz's upcoming earnings call on May 11. Until then, listen to our recent conversation with INVZ CEO Omer Keilaf. And check out our detailed overview of the Innoviz story here.
Want to see more interesting growth companies up-close, hear from industry leaders and learn about the ESG trends driving the markets? Check out our latest Boardroom Alpha podcasts here.
Get in Touch
Your comments and feedback are always welcome. Let's continue the discussion. Email me at joanna@boardroomalpha.com.